MRL/Windlass Genesis Machete Review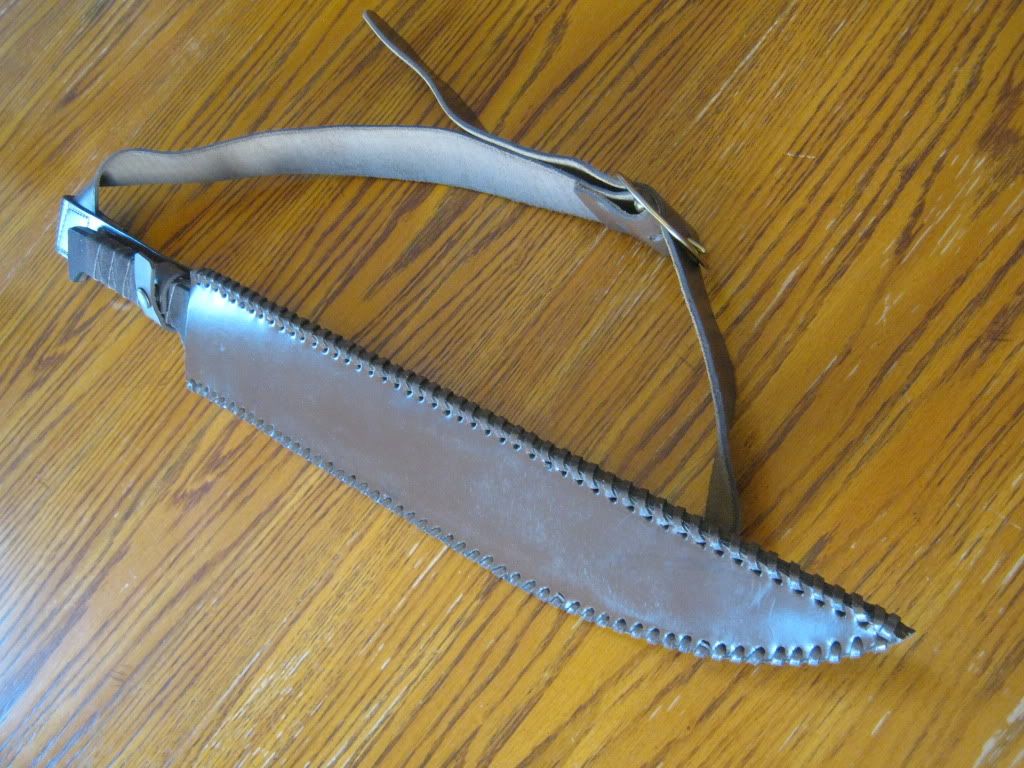 Introduction
So in case any of you didn't notice, I've been kind of on a "tactical" sword kick for the last while. My recent "zombie-themed" review of the Valiant Armoury Zombie Slayer featured some tongue-in-cheek commentary on the use of swords in an apocalyptic scenario – and let's be honest, we've all thought about it haven't we? Post-apocalyptic zombie threads pop up on SBG about once a month, it seems. We love us some zombies.
But there is more than one kind of end-of-the-world fiction out there, and from one exceptional specimen comes this inspired piece.
The Book of Eli
is a recent (2010) film set in a not-so-distant future, where a survivor of a global nuclear apocalypse (played by Denzel Washington at the top of his game) walks the Earth on a mysterious errand, while a local warlord (Gary Oldman taking another villain persona out for a spin) opposes him. Revealing any more would spoil the plot, let me just say that it is an excellent movie and I enjoyed it thoroughly. From
The Book of Eli
comes the Genesis Machete, an interesting tactical design by Museum Replicas Limited. Due to the movie and my recent obsession with finding inexpensive tactical weapons that would be good to have on hand in ANY apocalypse scenario, I ordered one from
Kult of Athena
and saw it arrive about a week later. On to the review!
Historical overview
Machetes, being a relatively cheap and accessible design of bladed tool, are frequently seen in post-apocalyptic/zombie fiction. They are common enough for most survivors in the apocalyptic future to easily find and maintain, and with a bit of work could be relatively easily produced by an individual at least passingly familiar with metalworking. In S.M. Stirling's most excellent Emberverse series (beginning with the book
Dies the Fire
) machetes are so commonly used as weapons that they are called by a shortened name – a "shete" (pronounced like the last half of the word "machete.")
The Genesis Machete is obviously not a historical weapon, since the movie takes place some 30 years in a dystopian future following a global nuclear conflict… but here is some background. The Genesis Machete is inspired by a weapon carried by Eli, Denzel's character in
The Book of Eli
. Eli uses a number of different weapons as he protects himself and those around him from bandits, cannibals and such like, and most of them are missile weapons of one variety or another (handguns, shotguns, even a bow and arrow). His backup weapon – which he uses with deadly speed – is a single handed machete. MRL replicates it here as the Genesis Machete.
Initial Impressions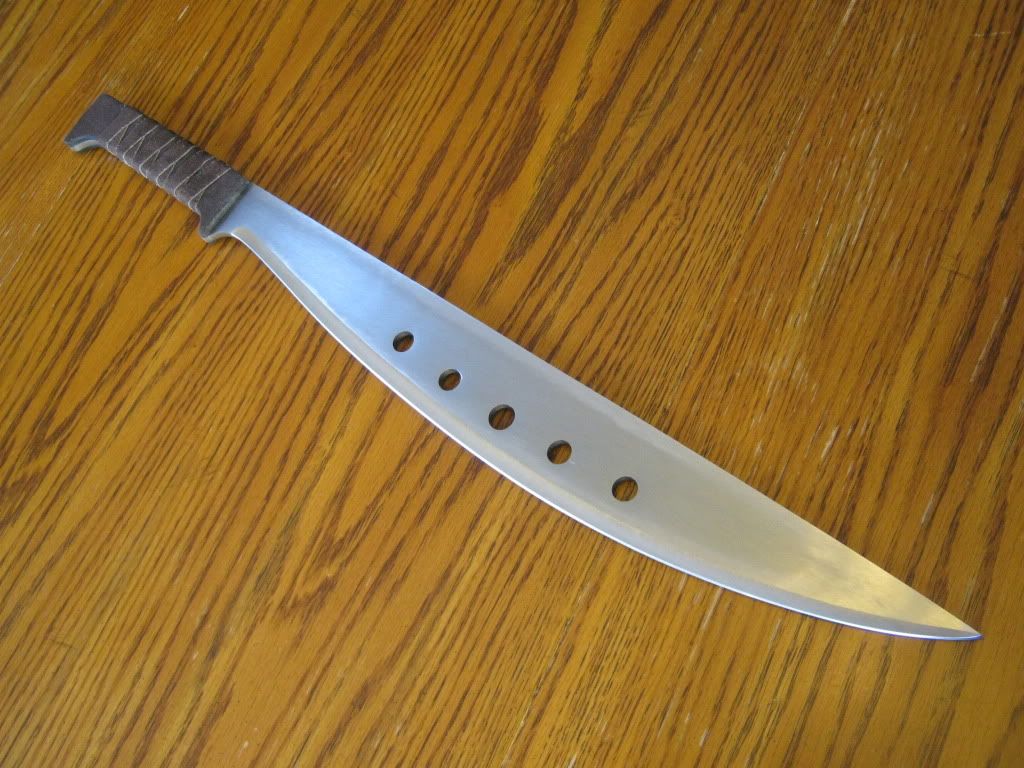 The parcel arrived from
Kult of Athena
promptly, as they always do. When I drew the machete from the sheath I noticed immediately how tight the fit was – it took real effort to draw. As someone who has had his fair share of knives pass through his hands I was heartened to see how tight it was – leather sheaths like this tend to loosen with use, so if a sheath like this arrives loose that is usually not a good sign. On inspecting the machete I found a few minor issues that I'll get into later, but the first impression was very favorable. I looked forward to doing the rest of my in-depth inspection!
Statistics
Blade Length: 18 1/8"
Handle Length: 5 1/4"
Overall Length: 24 3/8"
POB: 5 5/16"
COP: Unable to determine
Weight: 2lbs 2oz (according to my scale)
Components
The Blade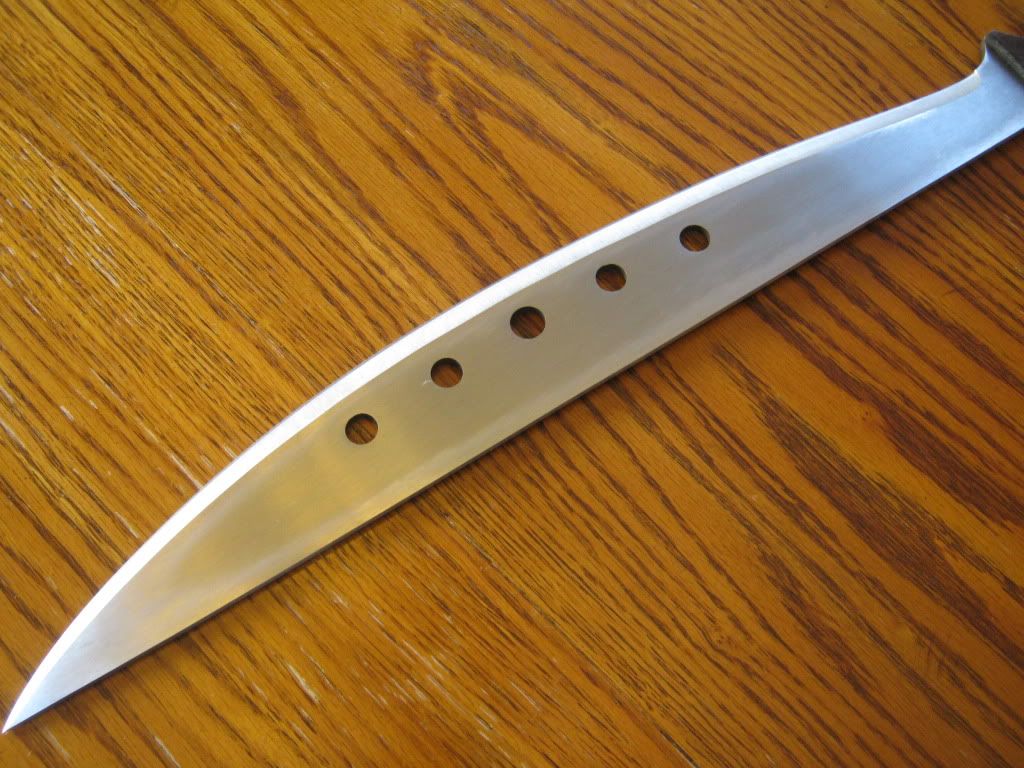 The blade is short, and swells towards the center like many slashing weapons do. The curved cutting edge is actually fairly well sharpened – not razor sharp, which would be inappropriate for a weapon that doubles as a tool (and would easily turn on bone or armour) but knife sharp instead. One unique feature is the series of five holes in the blade – probably not there to accomplish anything, but distinctive nonetheless.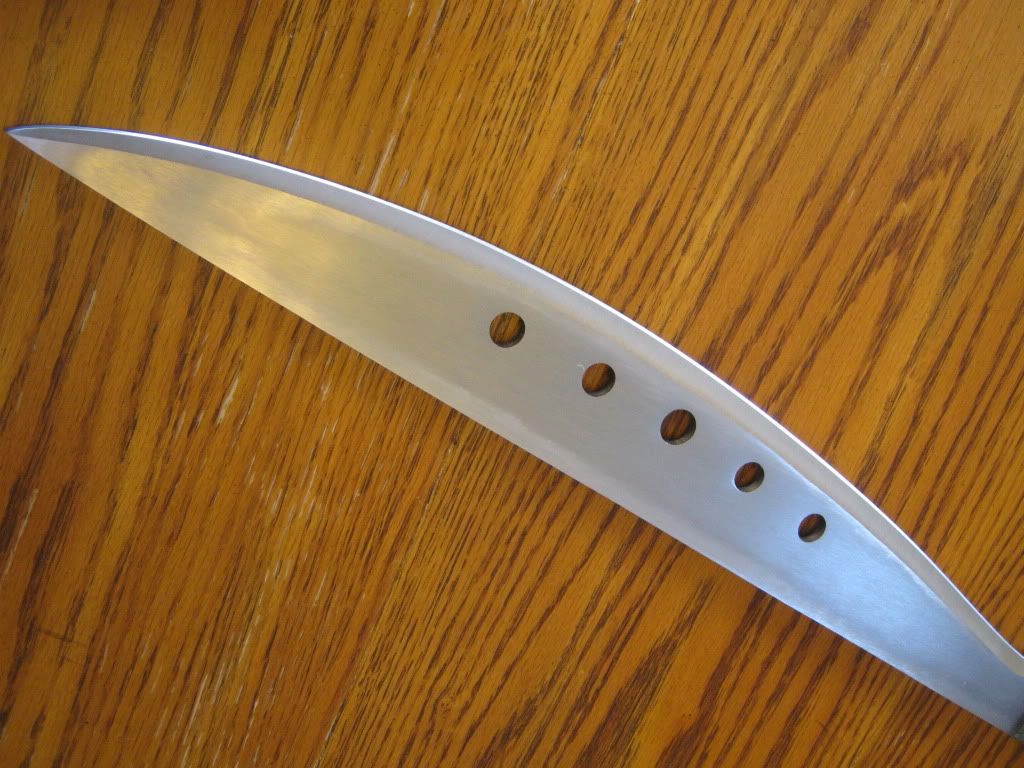 The spine of the blade shows a great deal of meat – this is a hefty blade. No complaints here, I doubt this thing is going to bend for anything less than a catastrophe. Of course, total structural failure is a possibility with ANY blade, but seeing a spine looking like this I tend to breathe a bit easier.
The Handle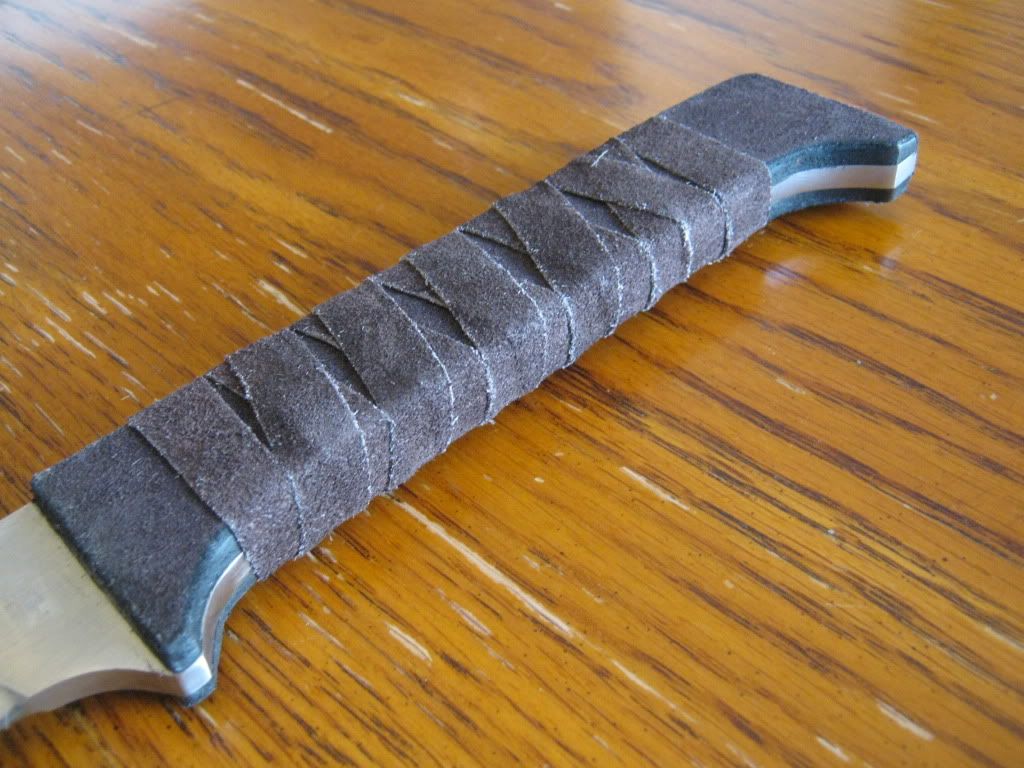 The handle is a simple affair; the tang is shaped to hand with billets of what appears to be rawhide glued on, with more rawhide strips wrapped around. This gives the shete a simple, rugged look, as though it was made by hand by someone who thought their life was going to depend on it.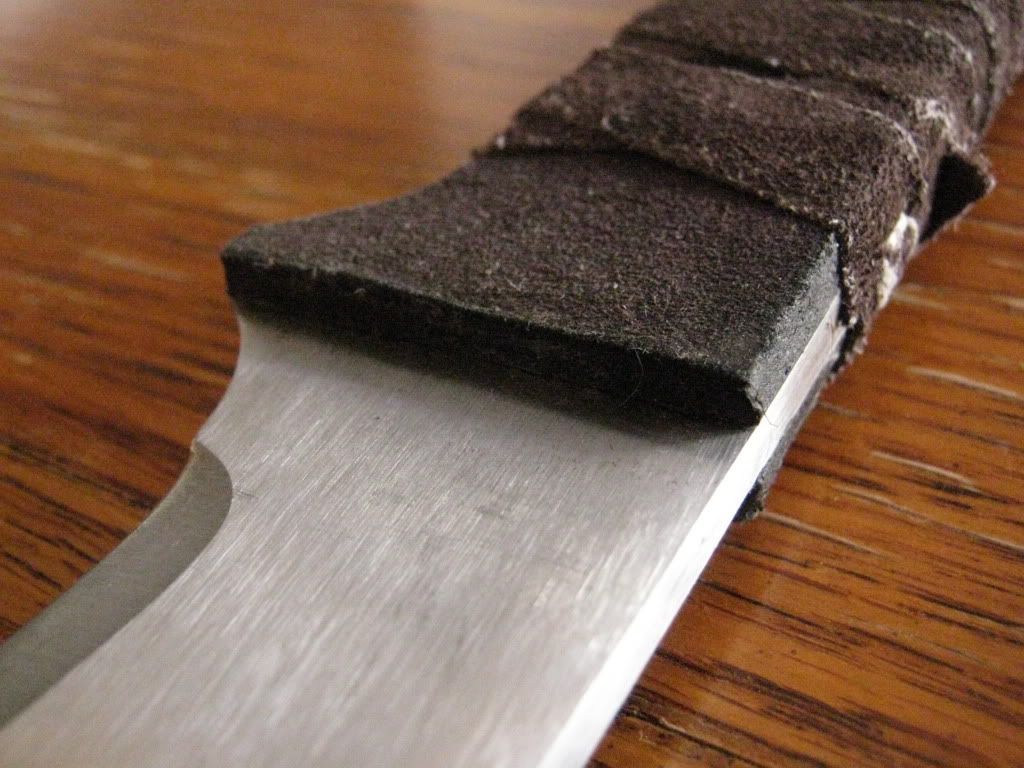 One section of the rawhide wrap was already starting to rip when it arrived. I emailed Ryan at
Kult of Athena
about it, but declined any further customer service intervention as I am confident that some leather weld will put the situation to rights. Ryan promised to look over the other Genesis Machetes for similar issues.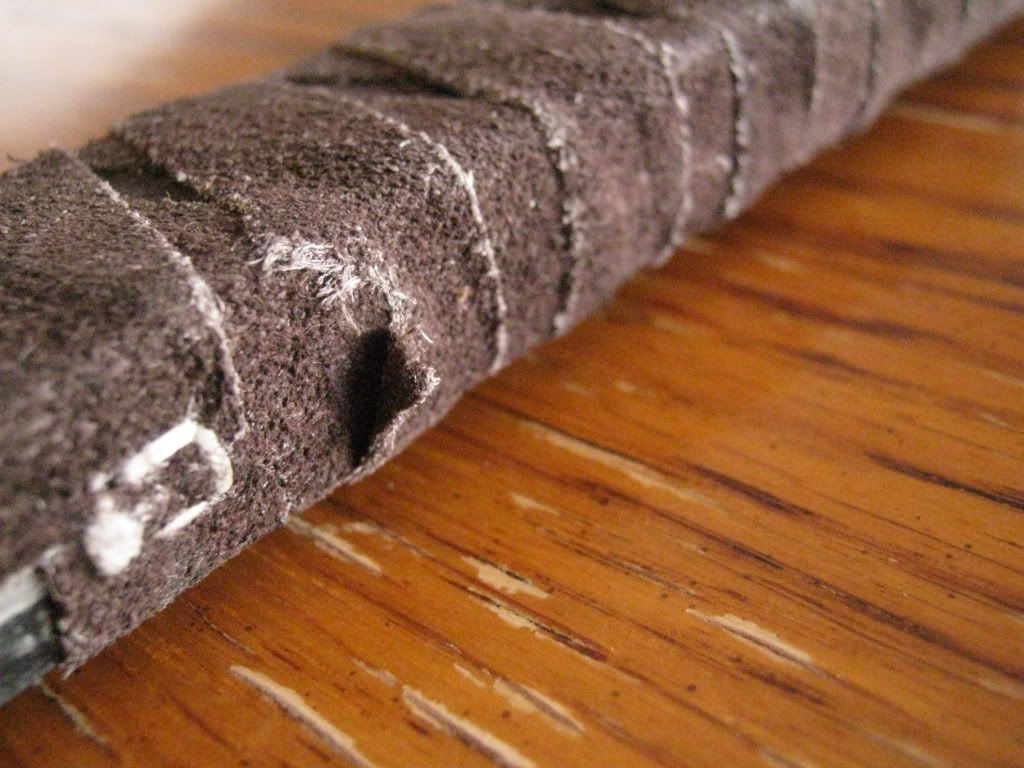 The Guard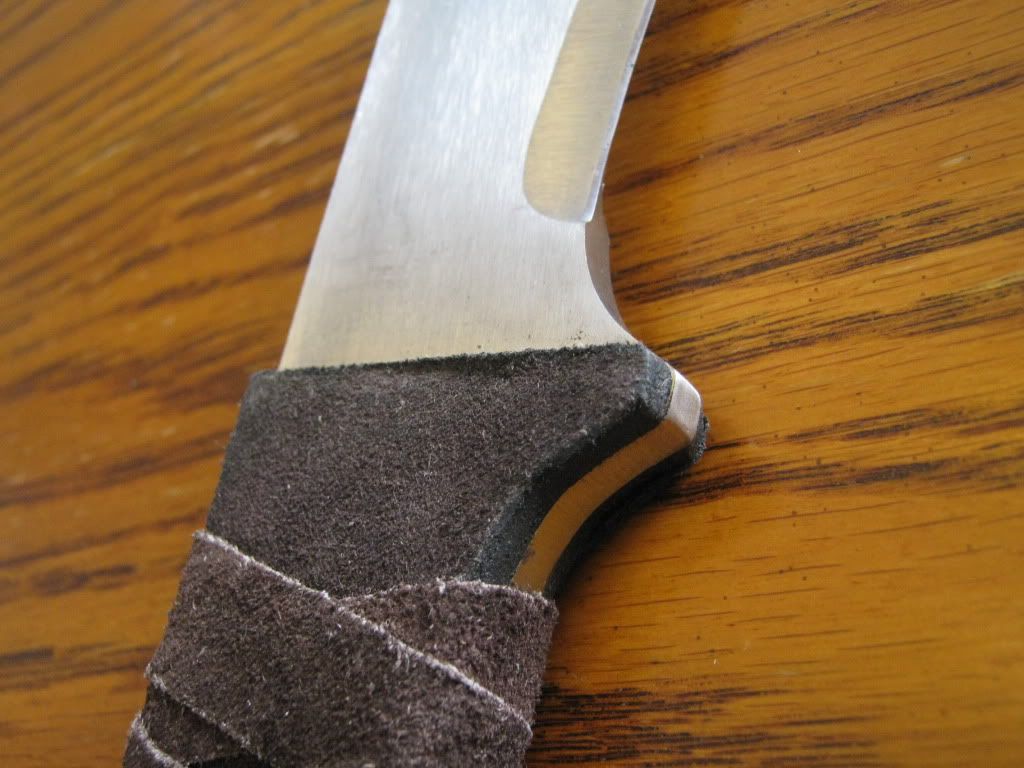 A slight protrusion in the metal marks the only guard this blade has – enough to (hopefully) prevent your hand from slipping up the blade during the unlikely event of a thrust provided the handle was dry, but I wouldn't want to try a thrust if I was covered in blood and zombie parts – I doubt the guard would keep my hand from sliding forward in that situation.
The Pommel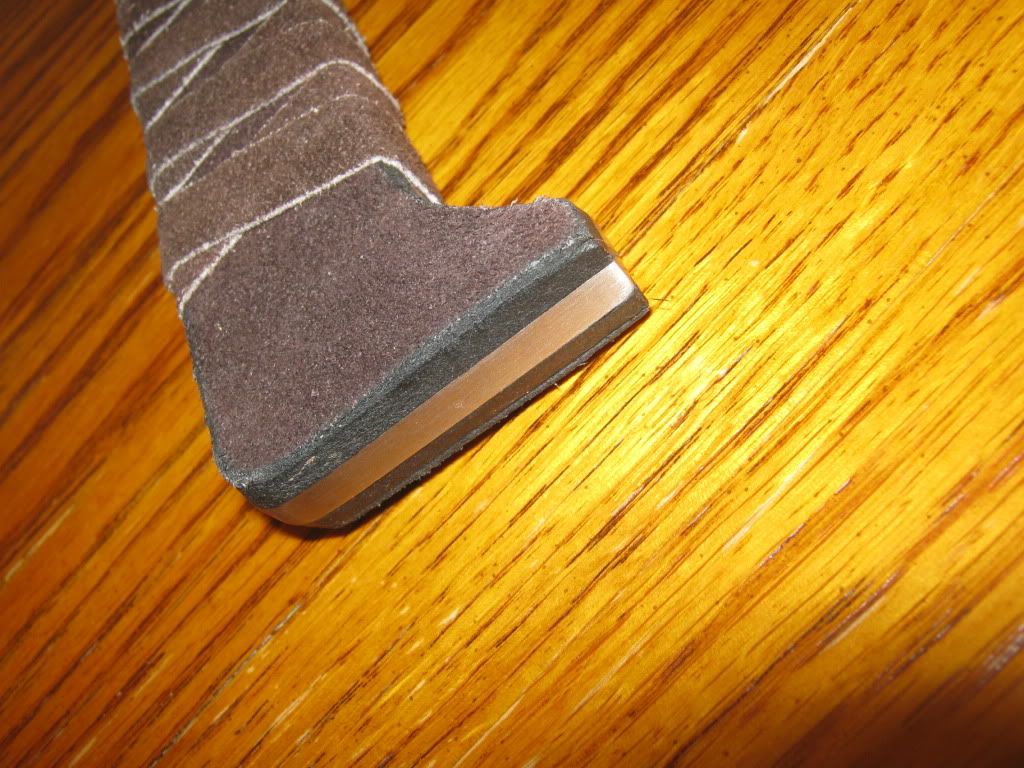 There is no pommel. Sounds like something from the Matrix, doesn't it? "There is no pommel…" Very Zen.
The Scabbard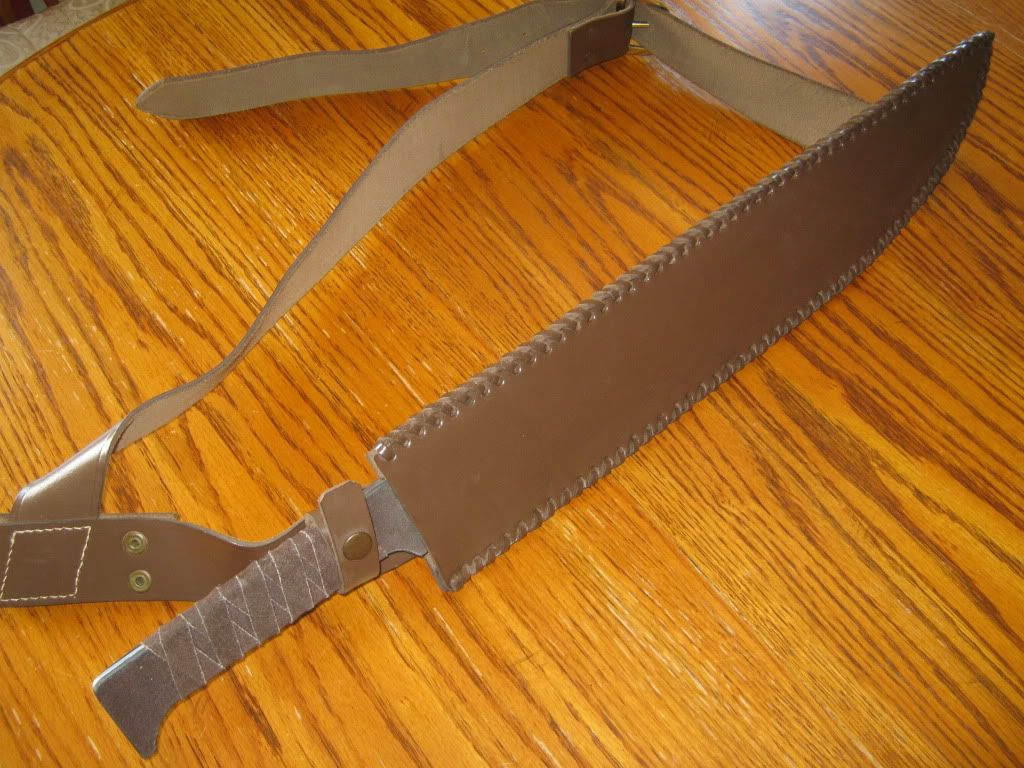 As mentioned above, the leather sheath was nice and tight. With some use it has not loosened noticeably, but it will in time. When the shete is sheathed, it hangs over the shoulder with the handle down and to the left – according to the ad copy, this is to leave your main/right hand free for a firearm. I don't know about that, but what I do know is that the sheath is comfortable to wear and leaves the handle with easy access for your off hand (or main hand if you are a southpaw). Speaking as a righty it would have been nice to even have the
option
of a right-handed draw… though I understand the reasoning behind this.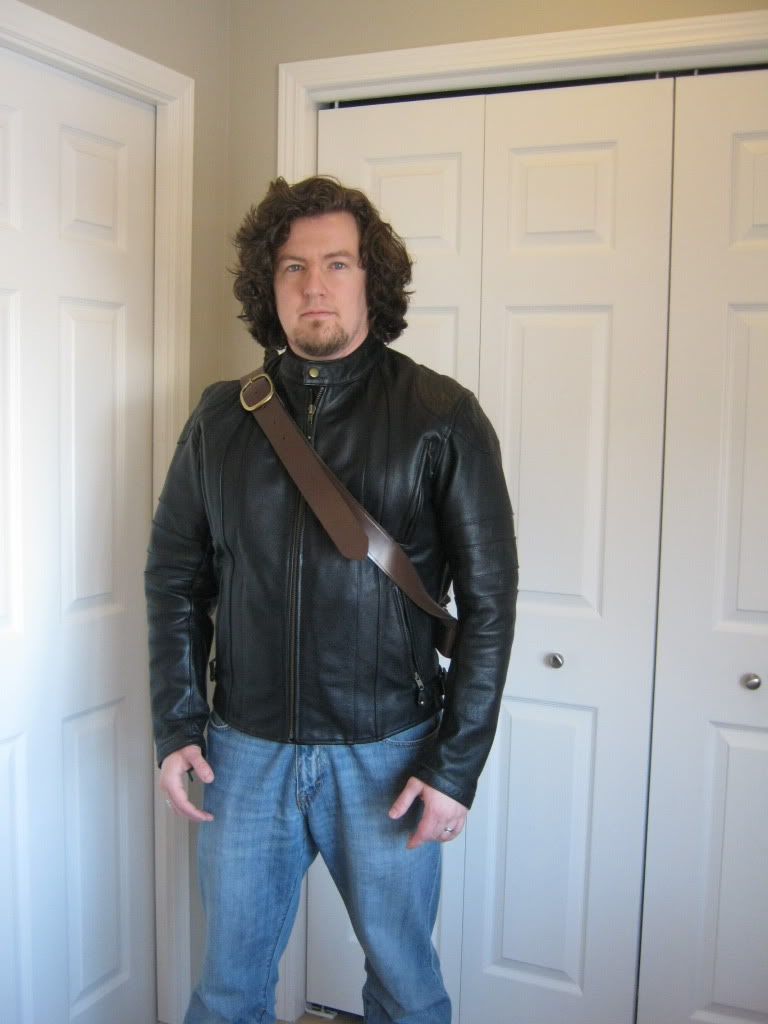 When worn, the baldric strap tend to flop about a bit, which looks and feels goofy when you are moving at a brisk stride or faster. An additional loop stitched onto the baldric to slip the end of the belt into would have gone a long way towards solving this problem, and would be an easy fix for MRL on any future runs of this product should they choose to do so.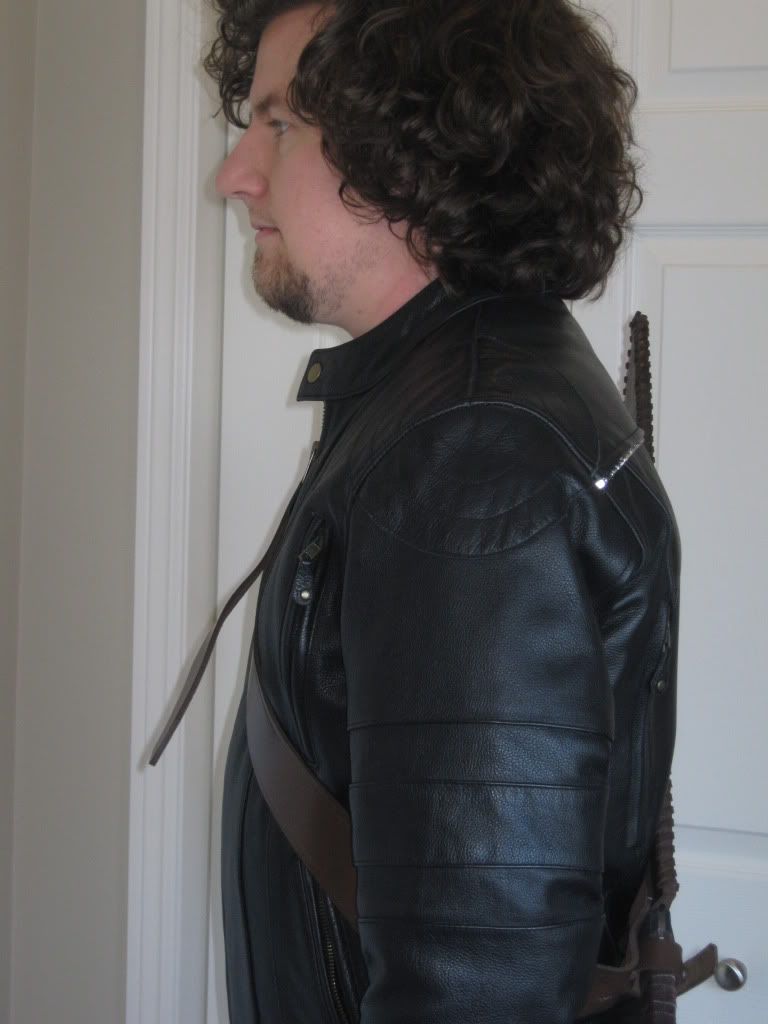 As mentioned before when the Genesis is sheathed and worn, the handle is easily reachable with the left hand. A button-down strap hold the shete from falling out.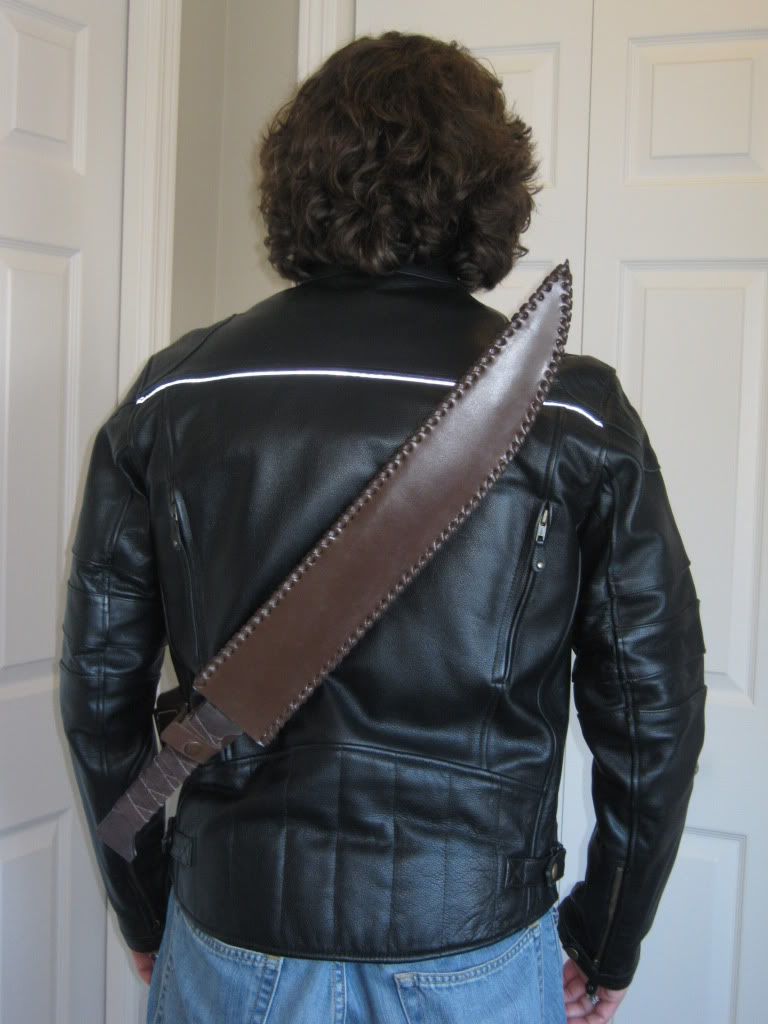 The strap is quickly disengaged with a flick of the thumb.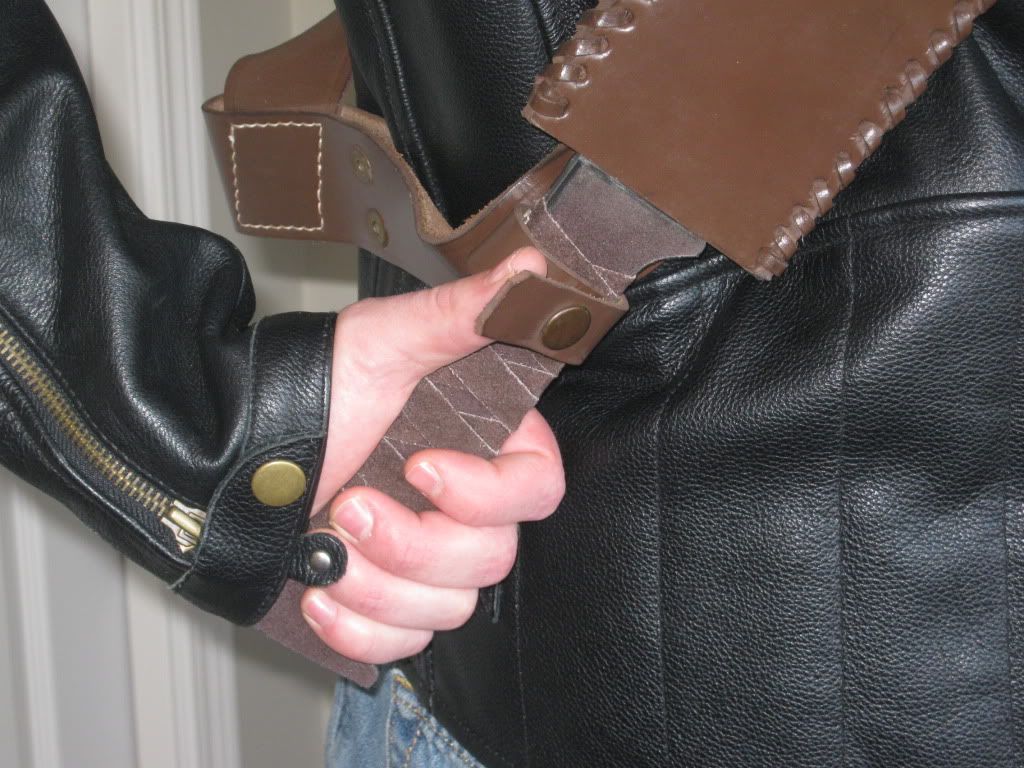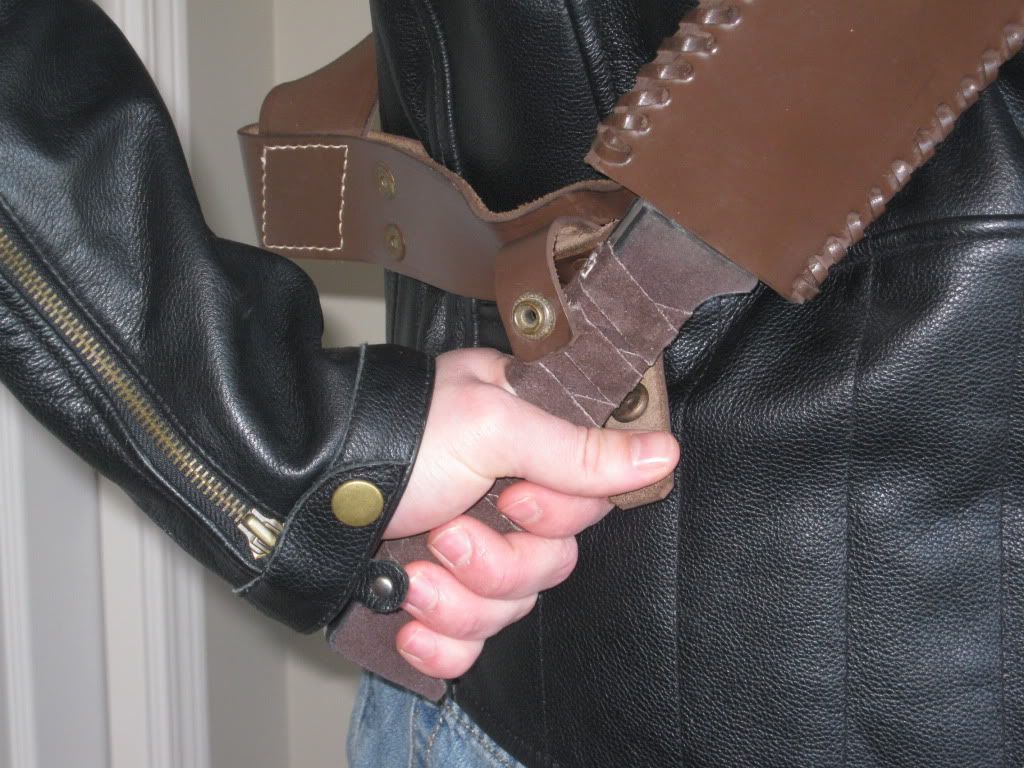 Pulling down sharply brings the shete free…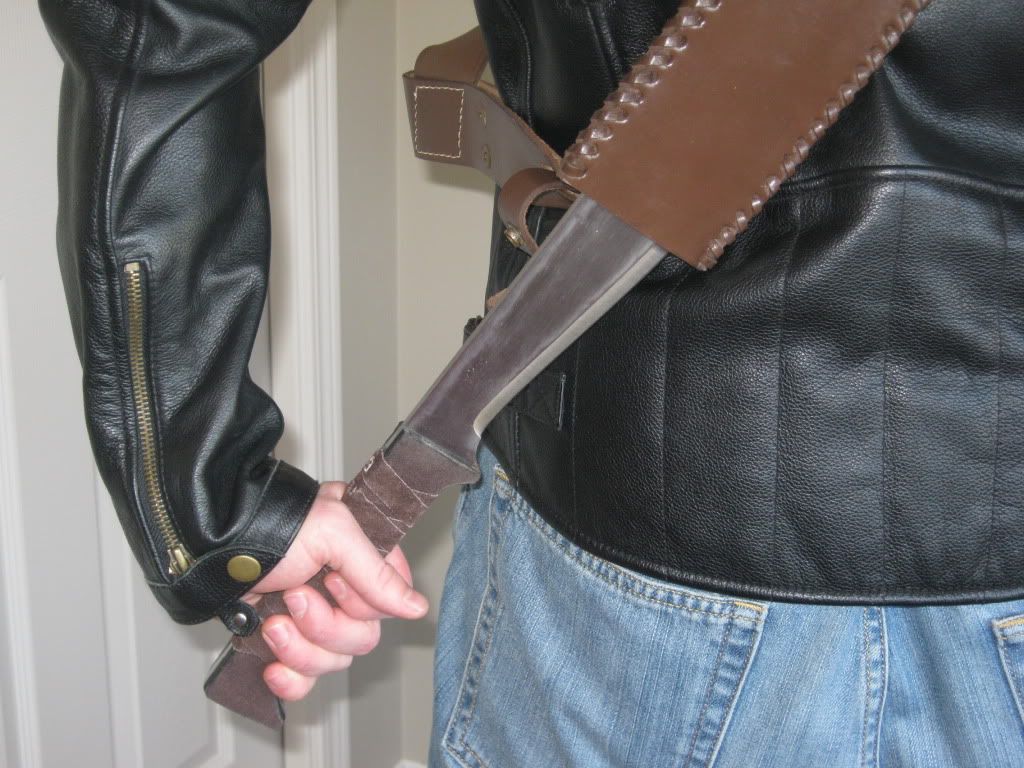 And then you are ready for action.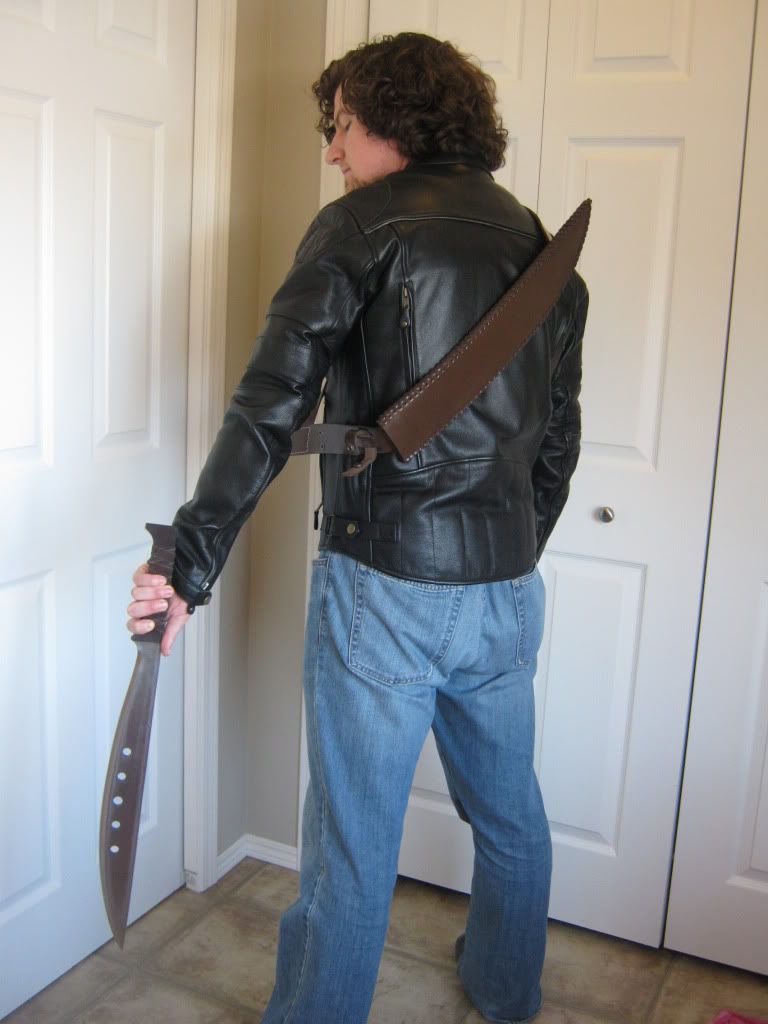 Handling Characteristics
If you watched Eli in the film, you'd notice him cutting off hands with a flick of his wrist using this thing. I'm not sure about that, since this weapon is quite ponderous in the hand. It feels like it would cut – or smash – through most targets, but stopping it and getting it moving in the other direction would take a bit more effort than might be practical in a life-or-death situation, especially in the off hand. That being said I am not the strongest fellow in the world, and tend towards much different swords that take advantage of my litheness as opposed to my bulging thews. So if you are someone with a good amount of upper body strength this would be downright scary to see in action. For people like me, the handle design can actually comfortably support a two-handed grip, turning the Genesis Machete into a little ko-katana-esque weapon. Definitely serviceable.
Test Cutting
Due to weather I will not be cutting with this for the remainder of the winter. Usually I don't cut during the winter because the cold can put addition stresses on the blade and tang, causing the blade to snap or the tang and pommel to bend. Of course, once I realized the truth – "There is no pommel" – I realized that it was not the pommel that would have bent; it was only myself.
Conclusions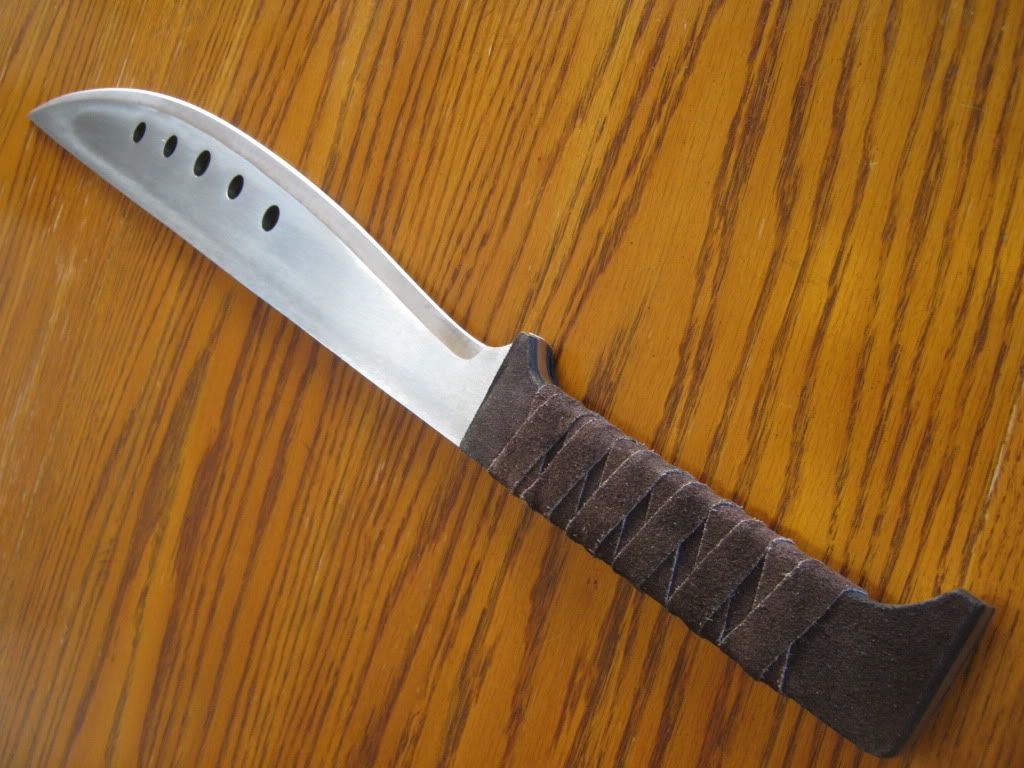 I ordered this weapon with almost a tongue-in-cheek attitude, but found myself liking it quite a bit more than I expected. Sure, it would probably suit a lefty better; sure, it's a bit harder to handle than most swords of this length, but damn if it isn't a savage little beater that would suit you well in a pinch. Even wearing it is more comfortable than I thought.
Pros
– nice thick blade
- comes knife sharp
- good quality sheath/baldric with easy access
- very sturdy construction
- good value for the price
- suitable for apocalypse scenarios

Cons
- heavy for its size
- would probably suit left-handed people better as a primary weapon

The Bottom Line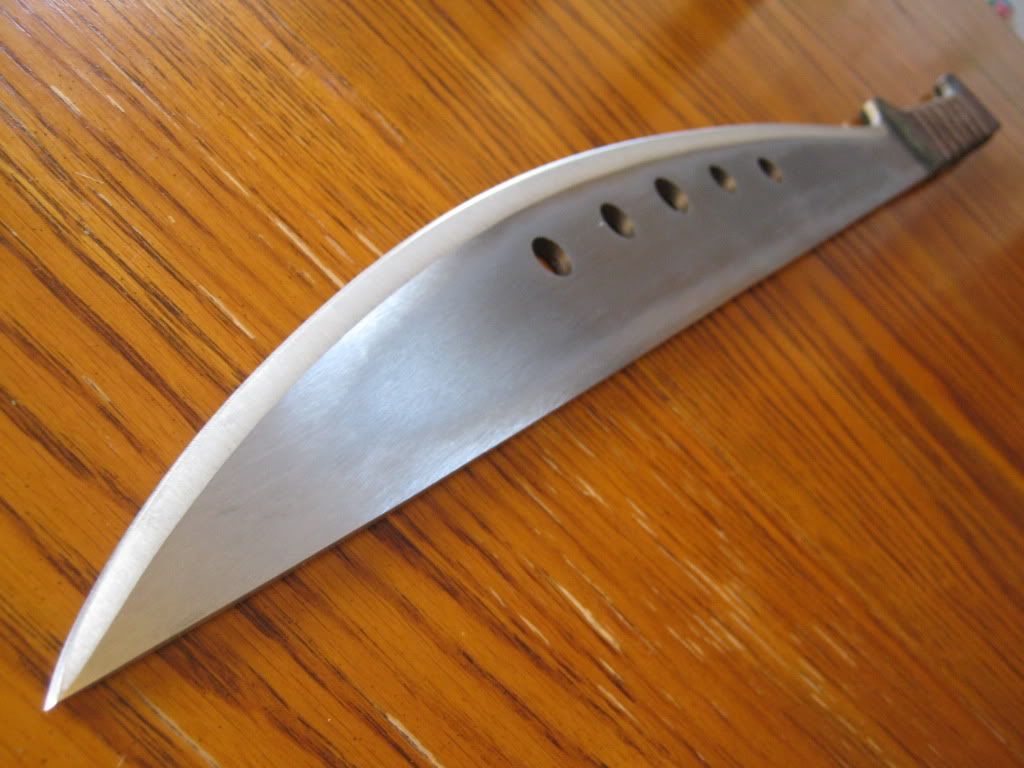 I'd recommend this to someone looking for a short beater, fans of the
Book of Eli,
or anyone who wants to protect themselves from the inevitable zombie uprising.