Introduction:
This is the last of my five new reviews for this week and Iv gone with the French Knight Sword from Rob at Castle Keep.
This was a gift to me and when I was told that it was on route to me I was not too sure what to expect as I had not really heard much or seen much (other than one review over at Myarmoury) of his work .So I awaited it's arrival with some interest . It eventually arrived after about a 7 day trip from Scotland . As iv only had the sword since the 24th May 2011 ,this is going to be a rather short review for now with loads of pictures .Ill update it as I get to know the sword better over the next couple of weeks .
But First some quick Background info about Castle Keep :
Castle Keep was Established in 1991 on the Isle of Skye, and has gone on to become recognized Worldwide for the quality and craftsmanship that goes into every individual piece. Rob Miller is one of a very few remaining Sword smiths using traditional techniques to create entirely authentic functional Swords and Knives. This means Fire and Hammer; forging, hardening and tempering the steel to give the desired qualities of toughness and flexibility as well as the beauty and grace of true works of Art. Mr Miller offers his work to discerning Collectors, enthusiasts and those seeking a true Heirloom made in the traditional manner of the Medieval Smith.
Another interesting fact is that he was actually commissioned to make a Dirk which was presented to Prince Charles at the 2009 Gathering (see pics below) .
He makes a variety of European type swords (Viking,Medieval,Scottish,Early swords) as well as scabbards
Initial Impressions:
The sword came well packaged in a plastic tube which provides great protection . After removing the tape and removing the well protected blade there was a feeling of both amazement and joy .This sword is in a nut shell one of the best single handed European swords which iv handled and owned to date . The sword as a package is really very impressive with a dark blue leather grip and the silver fleur de lys (Please note this is solid silver and not plated !) .The blade itself has a higher level of finish than most of my swords and has a mirror finish to it with engraving in the fuller . The thing that really stands out is just how different the sword looks ,very unique .Apart from this I was just blown away by the sheer quality of his work .
Statistics:
Taken from Castle Keep :
Specs:
Elliptical pommel shape with simple style 1 cross guard, matched to a narrow single fullered blade and finished with a blue dyed grip and inset fleur de lys in silver.
Overall length 37.5"
blade length 31.5"
guard width 7"
weight 2.1 Lb
Steel used EN45 and EN47 medium carbon spring steel, to give exceptional toughness and performance
Components:
The Blade:
It has a length of 31.5" and has a very sharp edge on it together with a stiff blade. It has a fullered blade which runs for about 3/4 of the blade . The finish on this blade is stunning with a mirror like polish which looks really good .
The engraving on the Blade reads as " In Hoc Signo Vinces "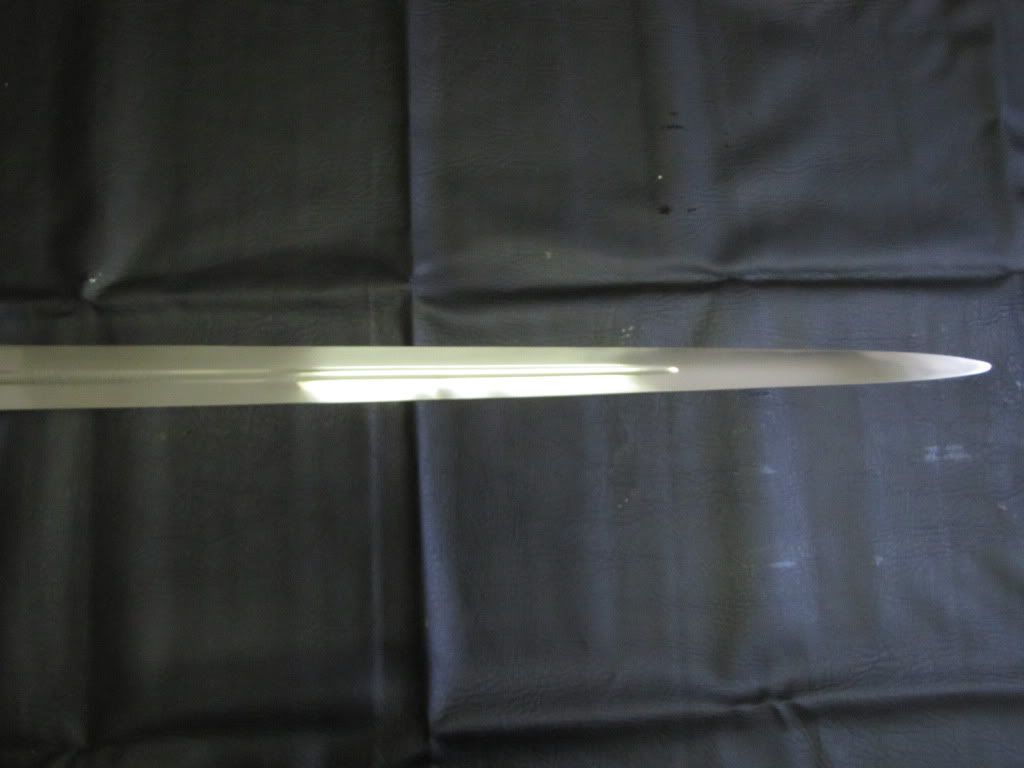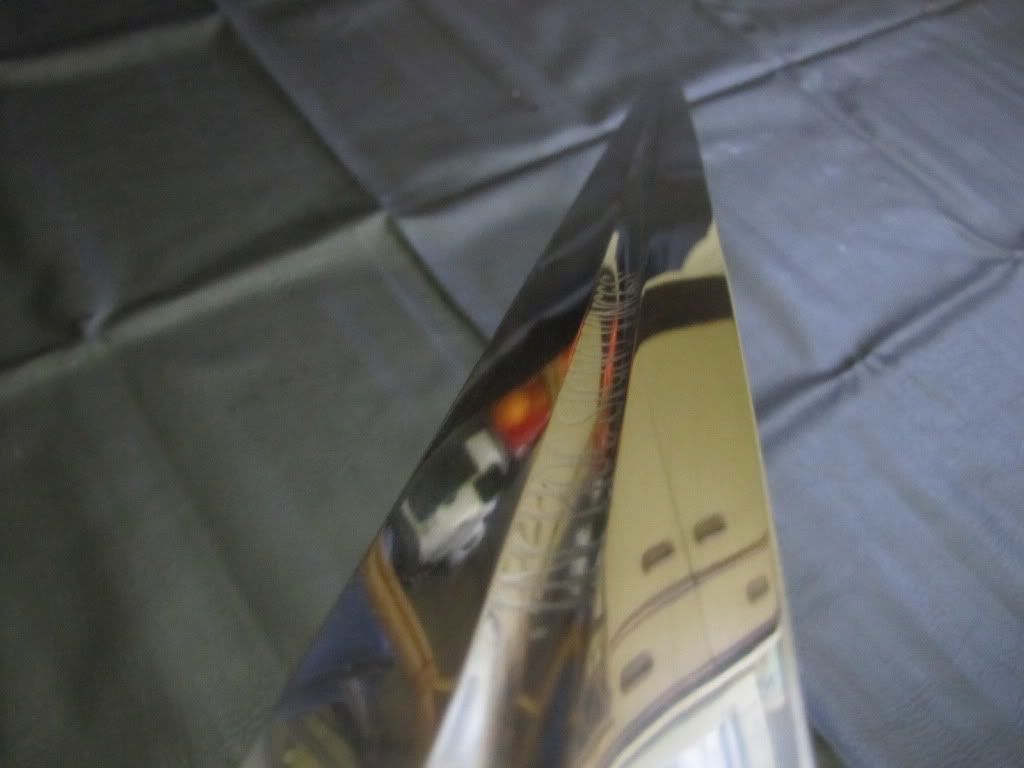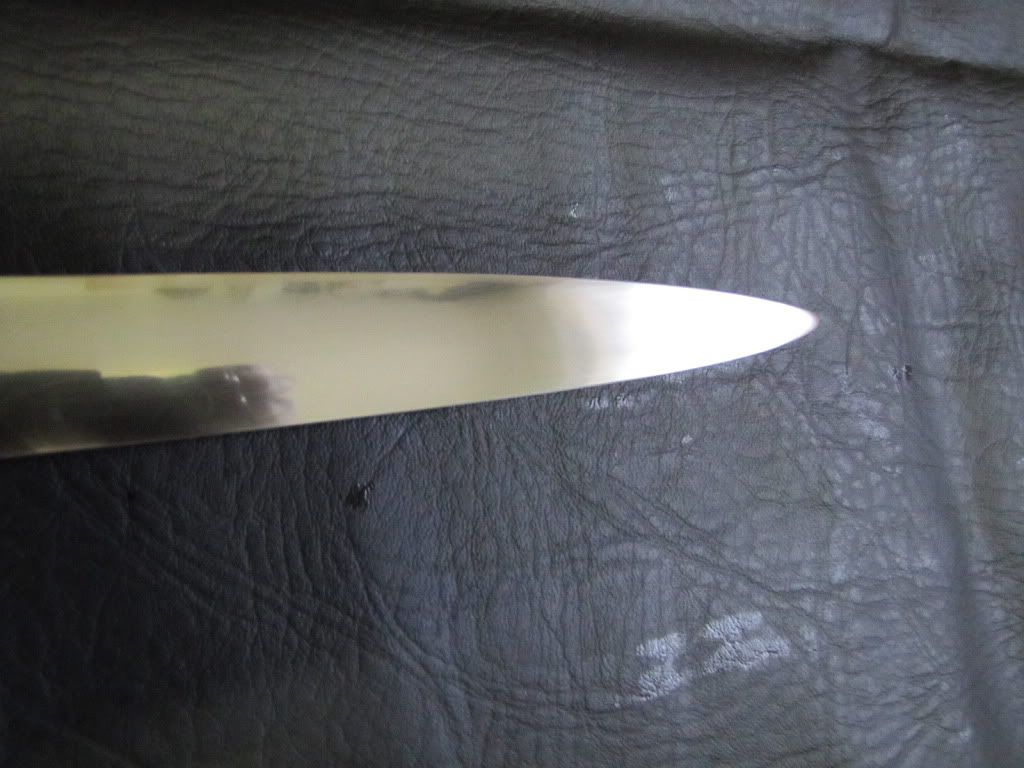 The Handle:
To sum this up in two words ,Simply Stunning ! The leather work is simply stunning and this together with the contrast which the dark blue of the leather provides against the solid silver fleur de lys is really something special . The finish of the grip's leather work at the bottom is also different with it having a flared type finished which looks really good . The fleur de lys itself has been expertly cast and is highly detailed . The thing that strikes me is just how he has basically sunk the fleur de lys into the grip and leather so that it feels comfortable in hand .In fact once in hand you cannot even feel the fleur de lys at all that's how well its been incorporated into the grip . All in all extremely impressive work .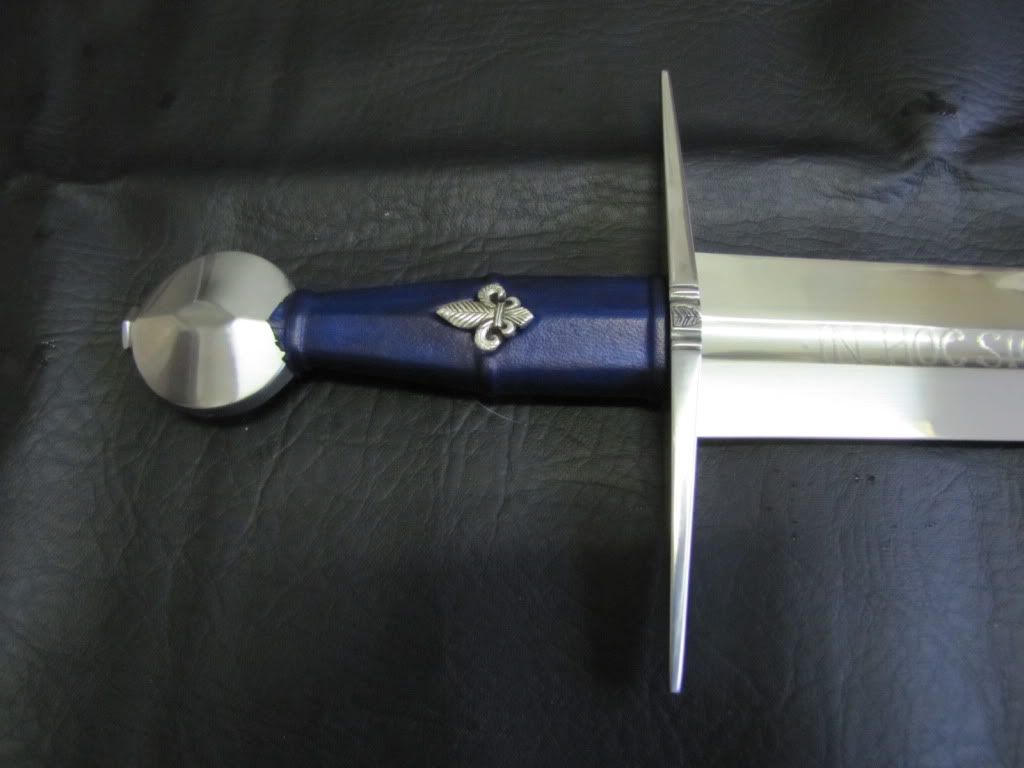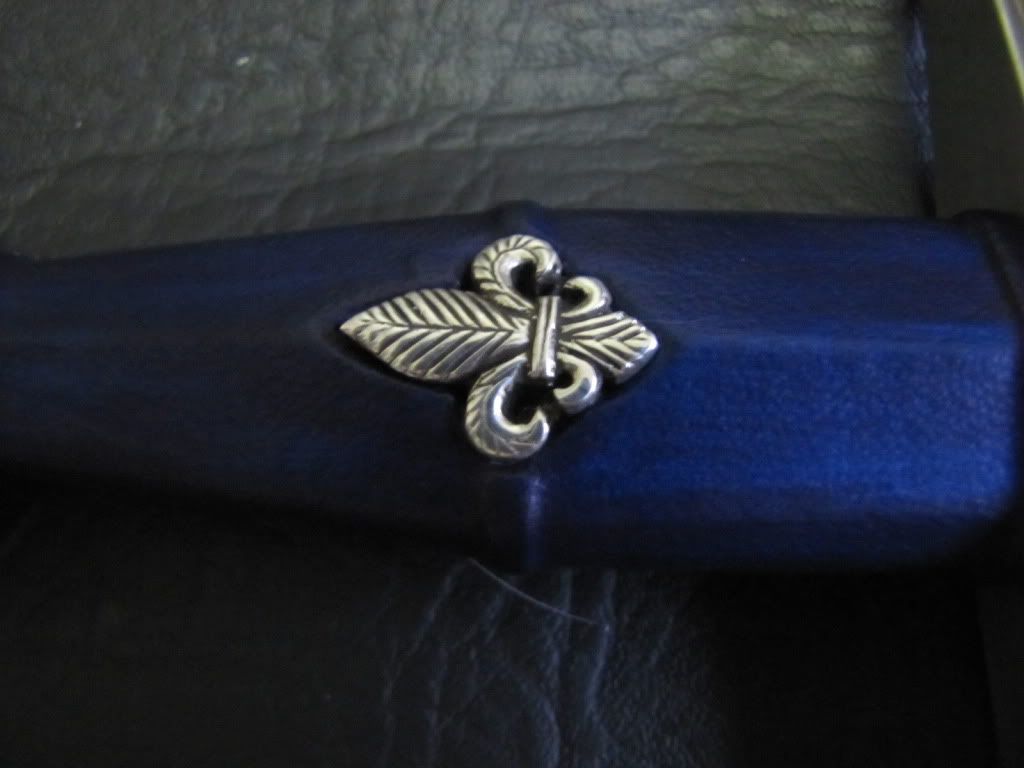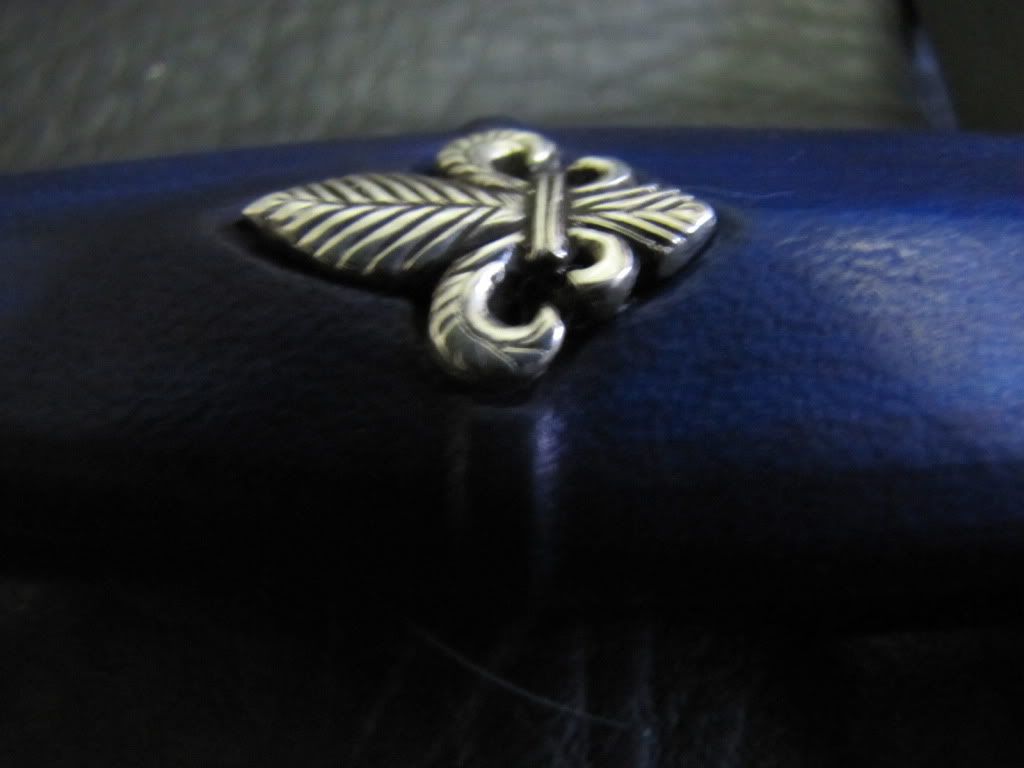 The Guard:
It is a type 1 cross guard that has a small shield emblem engraved in the center . Its small details like this which just makes this sword such a attractive piece .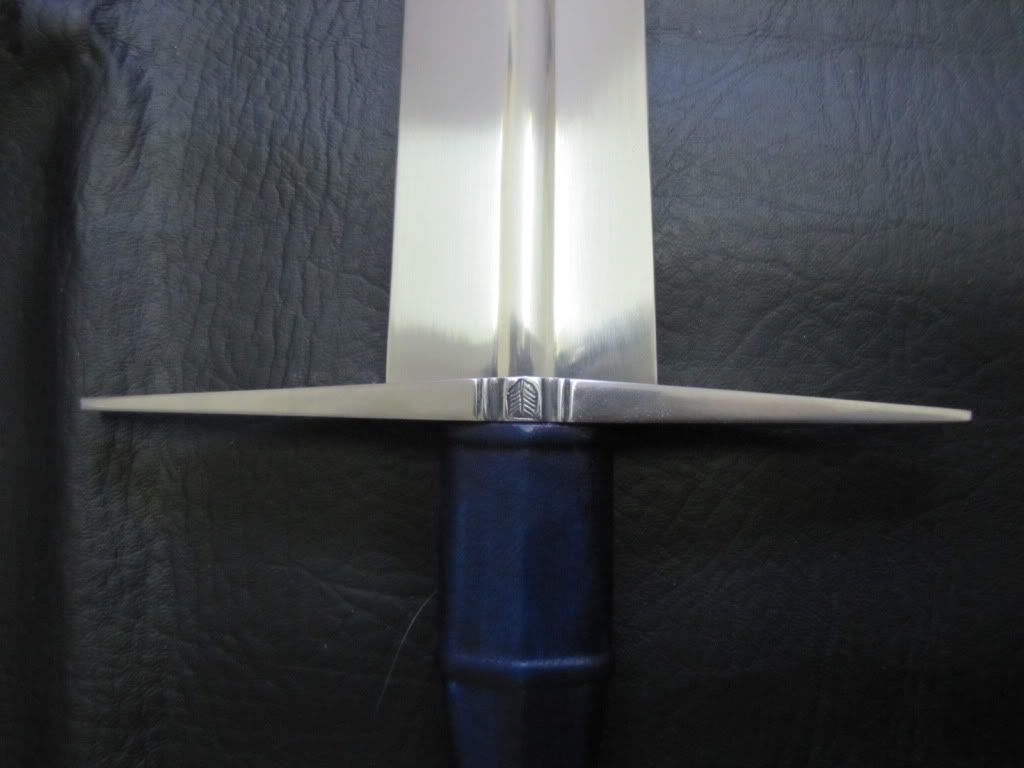 The Pommel:
Here too it features something a little different with a lovely Elliptical shaped pommel .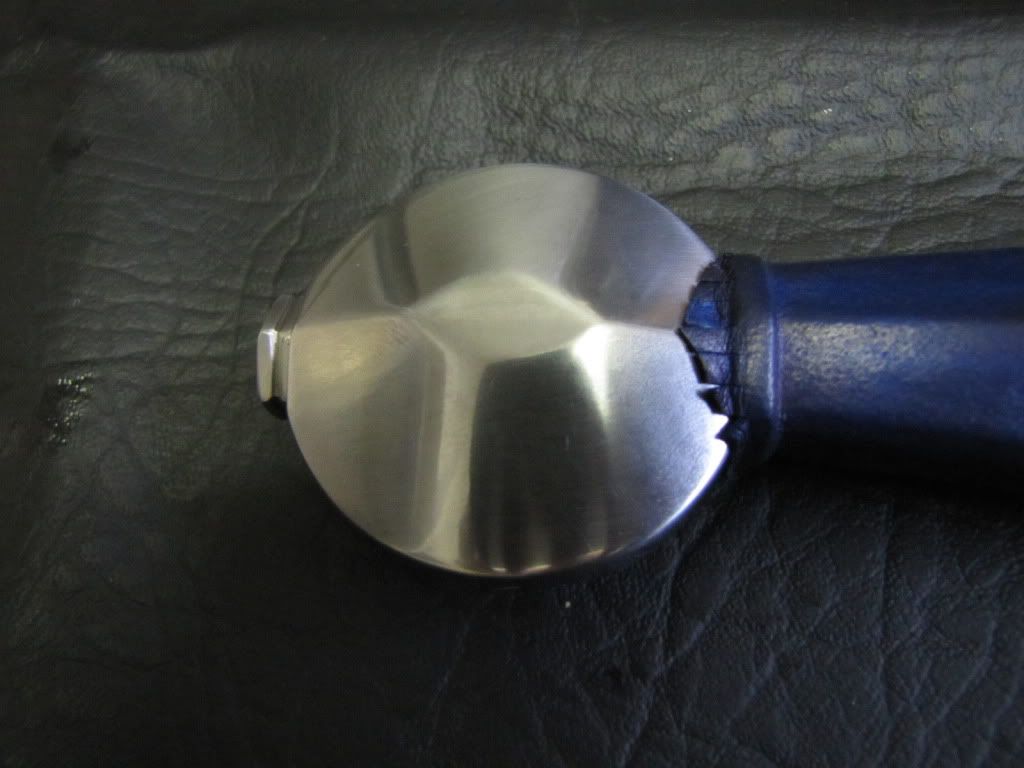 Handling Characteristics:
This sword is amazing , handling wise it is really fast in hand and is really comfortable .I like the balance and overall feel of this piece .
Cutting :
Unfortunately I have not had the chance to do any cutting yet ,but will update this as I do .
Conclusions:
I love it , it is very different to any European blade iv handled or owned . It is both visually stunning and handles like a dream . The finish on the entire sword is amazing with everything polished smooth and it's with quality like this that I guess its not difficult to see just why Rob from Castle Keep has been commissioned to make pieces for Royalty .
Pros:
Amazing attention to detail
Something totally different to the normal single hander European sword
Well Balanced lively piece
Cons:
He does have a pretty long turn around time (around 6 months),but even this as custom smiths go is comparable with some
The Bottom Line:
If you are looking for a top quality piece with some of the best finishing iv seen on a sword then Rob from Castle Keep is definitely the guy to speak to .