Introduction
As a practitioner of Arnis, Tae Kwon Do, and dabbling in Niten Ichi Ryu, I was on quest for a 'light katana' that would be suited for one handed technique and training. In this, I beseeched the forum for suggestion and opinions and the overwhelming responses had pinpointed several possibilities. One especially caught my attention was the Munetoshi Mokko.
It was not surprising that I chose the Mokko or rather the Munetoshi brand. The brand's maker, Sword N' Armory, was conveniently located ten minutes away from me and I had told my patience to wait in hell. Ultimately though, instead of Mokko, I ended up purchasing the Dancing Crane and Lion Dog available online at Sword N' Armory. Links below.
http://www.swordnarmory.com/Jubei-Lion-Dog-Differentially-Hardened-1060-Samura-p/jh-3107br.htm
The twists on how I ended up purchasing these two katana and how Sword N' Armory had the patience to let me to indulge myself in their collection can be found near the end of this review.
This review is focused on the handling characteristic of the Lion Dog, though comparisons will be made to Dancing Crane and Mokko which I owned briefly.
Also this is my first review for SBG, please let me know if there is anything I can do to improve the quality of my reviews.
Full Disclosure
I am not affiliated with any sword manufacturers, distributors or sellers. I did not receive the sword under review for free nor was I paid in any form to write this review.
The intent of this review is to share information about my purchases to the best of my knowledge in return for the generosity that this forum has shown me.
I am not a collector nor do I own a substantial collection. I am avid martial arts practitioner and backyard cutter that obsess over the mechanics of every move.
Initial Impressions
It is light in my hands and the intricate tsuba and red saya are really nice accents. The tsuka feels rounded and familiar, like the handle of my Arnis weapons. When drawn I the blade from the saya, I shouted, "Amen Hamon!" to this budget katana. Not that I think hamon is essential but I do think it is interesting and something worth learning.
Statistics
I took all the measurements myself and they are rounded to the nearest 1/16"
Nagasa Length : 28.5"
Tsuka Length: 10.5"
Tsuka Thickness 3/4" ~1 1/8"
Tsuka Profile width: 1 1/2"
Thickness at Habiki: 5/16"
Profile width at Habiki: 1 1/4"
Thickness at Kissaki 3/16
Profile width at Kissaki 7/8"
Weight approx 1kg.
Overall Length: 39"
POB (Point of Balance): 4 3/4"
Components
The Blade/Nagasa
The single most distinguished feature is the hamon! It was clear and unmistakable, but the polish wasn't detailed enough to bring it out fully. Base on the authentication tag it was made from clay differential quenching. It is also worth noting that the tag states it is made with #45 steel.
Update
forumite Adrian.Jordan had called and confirmed with Sword N' Armory that Jubei series (Water Dragon and Lion Dog) is in fact made with 1060 instead of #45. The tag is wrong.
The bo-hi run the full length and terminates in an oval. The straight faux yokote is made from counter polish and the termination of the ko shinogi doesn't have a diamonds shape flare
Though I cannot firm without removing the tsuka, it seemed to have shallow saki sori.
The Handle/Tsuka
The synthetic mixed ito looks clean and feels firm. The menuki is small but distinguished. It oval shape is comfortable with a slight taper along the length at the center.
The Guard/Tsuba
The tusba is well detailed with a very attractive lion dog and flower theme with textured fuchi and kugashira.
The Scabbard/Saya
The saya is lacquered pearlite dark red and egged shaped with a roundness that matches the tsuka. The saya is a little loose and the katana rattles when shaken, with that said I would be surprised if it hadn't.
Handling Characteristics
Disclaimer:
Handling characteristics to me is by far the most important characteristics. I will do my best to describe it accurately and in detail. However it is a personal experience, which may not be representative of yours.
The overall handling characteristic of the Lion Dog can be summarized to be light and friendly though a little less refined.
Anyone who picks up the Lion Dog should feel right at home with is oval tsuka and a distinct buy unobtrusive menuki. The slight taper feel comfortable on the palm ridge of the thumb and gives a reliable grip even when it is swung one handed. The trade off is a slightly less tactile feedback on the orientation of the blade, but that is none issue with sufficient training. It shares similar tsuka characteristics with Mokko.
Although the Lion Dog and Dancing Crane both have POB is at 4 3/4", they have vastly different handling characteristics. In fact Lion Dog handles more like a Mokko, which has POB at 5" (more on that near the end). To me, both Mokko and the Lion Dog have perceived center of mass that shifts 2 to 3" from the POB when it is held at various angles. This shift is however more or less absent in the Dancing Crane. (This is tested by holding the katana in one hand with the arm parallel the ground and the blade is moved through the motion of a vertical cut by flexing only the wrist.)
However the Mokko, with a curvier sori, has perceived center of mass near the mune and while the the Lion Dog shallower sori has it near ha. What this meant in terms of handling is that Mokko requires bit more control over the wrist when used one handed. For this reason I chose the Lion Dog over Mokko, trading balance for smaller cutting edge. This difference in balance is however very subtle and probably a moot point when either katana is held with both hands.
It is also worth noting that Lion Dog is made with softer steel compared to both Mokko and Dancing Crane. Thus vibration and displacement from shock do transmit more readily.
Test Cutting (if applicable)
A picture tells a thousand words. The blade is not hair shaving sharp, but it can slice through empty soda cans without any problems. I did get a tiny nick when I did an improper cut that glanced off of the top of the can, but it's nothing that I can't buff out with sand paper. I admit that this is not your typical target but it is still indicative of the blade functionality.
This is done both one handed and two handed with one handed having little to no success.
The edge did get duller, but still retained enough edge to cut paper. I am sure I can get edge back to factory standards with a basic maintenance job.
Conclusions
For a budget katana at its price point, I am more than satisfied with the Lion Dog. It has great handling qualities and aesthetics for beginners. Its comfortable grip and lightness is welcoming to anyone who is interested in developing one handed techniques. Though not that toughest of metals, it is very easy to maintain and basic maintenance is a good skill to develop. I also think it is a good learning opportunity for beginner to observe the metallurgical phenomenon of differential hardening and the resulting hamon.
Pros
-Amen hamon!
-Light and comfortable
-Solidly constructed
-Low Cost
-Easy to maintain
-Great for beginners
Cons
-Edge retention is okay
-The saya is a little loose
-Katana rattles in saya
-Not particularly refined for advanced collectors
The Bottom Line
I would recommend Lion Dog to any budget beginners. But more importantly I would recommend the Sword N' Armory to the forum. The story below will illustrate why.
My experience with Sword and Armory
Base on the recommendation of the forum, I bought the Mokko online and I picked it at Sword N' Armory the next day.
After swinging Mokko for a day and the excitement and anticipation wore off, I decided to measure the POB of the Mokko, purely on a hunch. To my surprise, the POB is actually at 5" instead of the advertised 4.25". I sent them an email right away wanting some answers. But patience is a virtue that can wait in hell, so I gave them a call. One of the staff, Harrison, answered and I explained the situation to him. He then measured all of the Mokko in stock and found, to my dismay, everyone in the recent batch has 5" POB. Being a difficult customer* (see note) and living only 10 minutes away, I asked him whether I can pay a visit that afternoon. Harrison said he will have something that fits my needs waiting for me when I arrive.
At 4:55pm, I arrived at the warehouse and lo and behold! Harrison had a thoroughly harden T8 katana with POB at 4.25", waiting for me. The balance did feel right but my vanity wanted a bo-hi and a hamon, so I wasn't sold on it.
Then the general manager Jacky Ling walked in and for the next 2 hours he patiently showed me
every single katana
they had in their showroom. We also talked about swords, manufacturers, and kendo, which Jacky practices. Ultimately though, I held out on my decision.
Over the weekend, after some more research, I emailed Sword N' Armory that I wanted to see the Dancing Crane and when I arrived at 4:30PM on Monday, they have a couple out and ready for my inspection. I fell in love and snatched the Dancing Crane and got a Lion Dog on top of that.
I thoroughly enjoyed my experience with Sword and Armory and I feel that they are really genuine people, who want to help you get what you want. So what you often hear on the forum is true: it's not only about the sword, it is also about the people that sell them.
*Note: I was really nitpicking on the POB on Mokko. In reality, to shift the POB from 5" back to 4.25" only takes the weight of my cell phone placed at the kashira. That is only about 78 grams or 10 cubic centimeter of steel (2 teaspoons).
Last edited by
damimi521
on Thu Dec 06, 2012 9:55 pm, edited 1 time in total.
Posts: 11
Joined: Mon Sep 12, 2011 5:33 pm
Karma: 1
---
Nice review. I've dealt with
SwordNArmory
several times, and all were very pleasant and satisfactory. Thanks for sharing.
Posts: 5452
Joined: Sun Jan 30, 2011 2:41 am
Location: Fortuna. CA
Karma: 158
---
Great review !
To answer some of your questions - #45 is 1045 steel, often considered the minimum for sword steel. vis.
"1045 is used extensively by all industry sectors for applications requiring more strength and wear resistance than the low carbon mild steels can provide and the higher strength of the low alloy high tensile steels is not necessary,
Typical applications are: Axles Various, Bolts, Connecting Rods, Hydraulic Clamps and Rams, Pins Various, Rolls Various, Studs, Shafts, Spindles etc."
It is usually a good idea to disassemble your sword to ensure your tang is one piece and of sufficient length, although this can be a little difficult where the Tsuka has been hammered into place.
Also it is nice to see the Habaki and how well it is fitted,
Have some well deserved Karma...
My god carries a hammer. Your god died nailed to a tree. Any questions?

"Fūrinkazan" (Wind, Forest, Fire and Mountain), fast as the wind, silent as a forest, ferocious as fire and immovable as a mountain.
Posts: 1698
Joined: Thu Aug 16, 2012 4:30 am
Karma: 23
---
Ah, yes. I forgot to mention about those.

The sword is in fact 1060. I contacted them about it when I got the Jubei Water Dragon, and they said it was an error on the forges part. they mislabeled tag and the box, but the steel is 1060.

Almost all production katana in this price range have saya rattle. Of all the katana I've ever owned, only one has had zero saya rattle.
Posts: 5452
Joined: Sun Jan 30, 2011 2:41 am
Location: Fortuna. CA
Karma: 158
---
Thank's for the advice Aussie Rabbit! I will take more photo of habiki for the for both sword when I complete my review of Dancing Crane.

I am hesitant to take apart any sword at the moment since I don't believe I have the proper tools or knowledge. After some more research I will try it out and update the review.

And thank for the update Adrian, I will update that in the review. Accurate communication is so vital yet so difficult to achieve.
Posts: 11
Joined: Mon Sep 12, 2011 5:33 pm
Karma: 1
---
No sweat, and I agree.
As for tsuka removal, it is best left for when you have the proper supplies. Luckily, a tsuka removal tool(Koshirae-nuki) is east to build or improvise. I took a 1" x 2" x 12" block of oak and hollowed it out, leaving about an 1/8" on each side. You slip it along the spine of the blade, then use a hammer or mallet to tap the tsuka off. This works by diffusing the force over a nice, even area of the tsuba/tsuka, which greatly minimizes the chance of cracking the core. Here's the one I made before. Simple, real ugly, but it works well.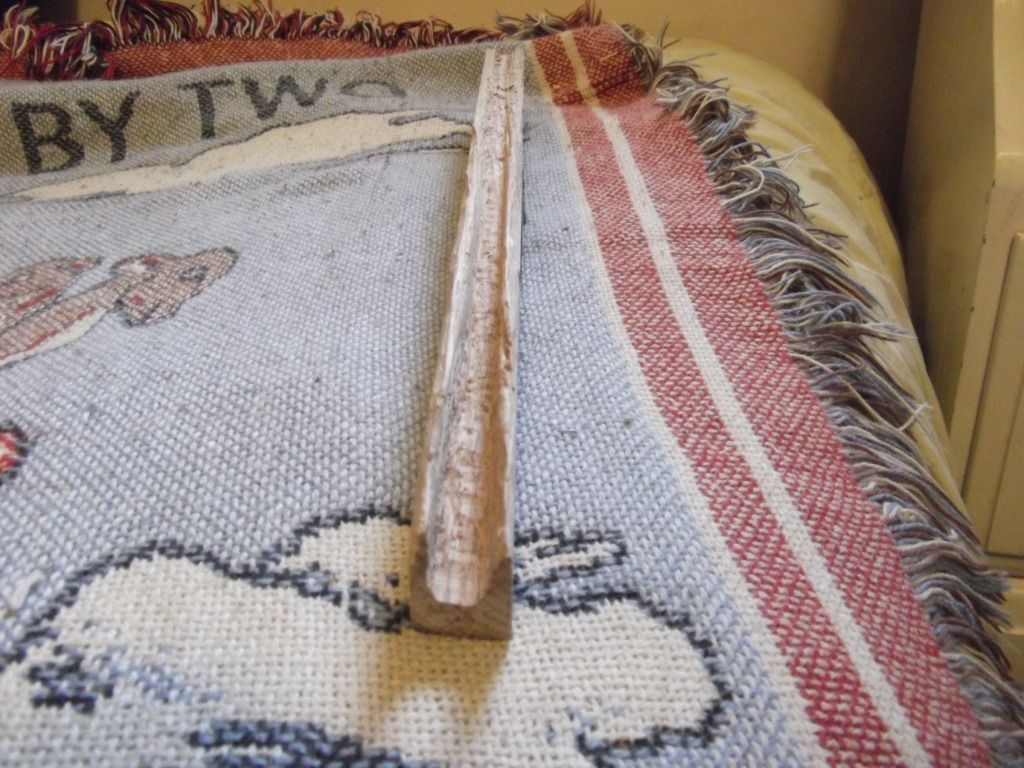 I've also used a section of 2 x 4. Place it on one side of the tsuba, along the side of the blade, and give a few taps. Repeat on the other side, back and forth until the tsuka slides off. This isn't as guaranteed as the above to not damage the core or the tsuba though, so if you use this method be cautious.
A wood head hammer works the best. If you use a regular hammer, wrap the head or the blade with a towel. This will greatly reduce the risk of blade damage it the event of a bad hit.
Hope this helps.
Posts: 5452
Joined: Sun Jan 30, 2011 2:41 am
Location: Fortuna. CA
Karma: 158
---
Good review!
Ken-Zen Ichi Nyo

If you want to see,see right at once.When you begin to think,you miss the point.- Zen master,Dogo

His junk is making our junk look like junk!- Fred G. Sanford,comodities.

United Backyard Cutters
Posts: 1330
Joined: Wed Oct 06, 2010 1:18 pm
Karma: 27
---
---
Who is online
Users browsing this forum: No registered users and 2 guests