REVIEW WRITTEN NOV 21 2010

EDIT CUTTING RESULTS NOV 23 2010
Part One of the Ryan Sword Review is here
http://forum.sword-buyers-guide.com/viewtopic.php?f=6&t=1338
Introduction
Well this is my second sword review so please bear with me. As you saw in the first part of my review I wanted something Cheap and low end that could stand in for my expensive swords and I wouldn't need damage them when I was cutting various targets in my back yard.
As you may or may not have noticed during the First part of the review, I had laid out the facts of what we could see on the Internet about Ryan Swords, and that their most Staunch competitor was wiwingti (Yes regardless of what you think, two companies who compete for sales of Similar Products. In this case swords, Are actually competitors. That's a Textbook definition)
Many of the supporters of Wiwingti sword supply (by this I mean his buyers, not people siding in an argument) wanted it known that at the time of his review Marc (Wiwingti) Had not been selling swords. It was in fact the Ryan sword argument which had caused him to become a seller.
Clearly I didn't have all of the story here.... so in an effort to find out what had happened, I decided to go to the source and contacted Marc directly.......
Hello Marc

My Name is Fraser (Ftahleson on the forum) I am a fellow Canadian from the West Coast

First of all I would like to say I have not contacted you sooner, because I didn't want to make you mad. And I didn't want to start on the wrong foot. Simply put.. I have no association with Ryan Swords but was reviewing their CURRENT 50$ Product line. I tried to keep things as Unbiased as possible. But that can be difficult.

My First part of a Three part review was on the 42.88$ Unsharpened Iaido sword they provide.

I did a lot of digging on this before I did buy and the review the swords....

I found that the primary voice against Ryan Sword as a company was you and your youtube Videos. All of the evidence pointed towards you being another sword seller who wanted to discredit Ryan Swords and as such would be happy to provide an alternative sword provided by you.

I would like to point out I did my absolute best to simply state facts and not to say anything bad about you.

However What I didn't realize was the actual history was of you providing the review PRIOR to becoming a Sword Dealer. Which I would like to make clear in the Second part of the review Which will be on the 46.88$ Sharp Katana (Which is in the same class of the original sword you received).

I am not asking for you to Like his product.. in fact far from it. I would be most appreciative if you could tell me what actually hapned. Did you ever receive compensation and if you have any pictures or links to any reviews you wrote at the time about that product. I am quite curious to see if there are still any common defects in his current products.

I would hope that you would read my review and if you have any comments I would love to hear them feel free to e-mail me. It seems that Ryan Swords has advanced some since you baught. Their product is better than before.. but that wouldn't be hard to beat. I can say that what I found was a blade that appeared Safe.... and Useable... In spite of the numerous defects I found. Though I wouldn't be willing to chance much more than 50$ + Shipping on one of their items given what I have seen

The review I wrote is here.

http://forum.sword-buyers-guide.com/viewtopic.php?f=6&t=1338

I would also like your permission to put a link in my Second Part that leads to your web site as an alternative place to buy a sword from.. Your priced appear quite reasonable to me. My only concern with your site is the 80$ USD shipping to Canada (Is that the shipping costs for Paul Chen Swords? because that nearly doubles the price of some of them)

I hope you understand that I am just trying to give a clear picture to everyone of what is coming out of Ryan Swords right now. as compared to a few years ago. And hopefully you can provide alternatives for Canadians that would land in a similar price range to some of their stuff.

Kindest regards

Fraser
Given that I did not ask permission to copy his response I will cover the basics of our conversation in the next section. as this is in part the "History" of these swords......
Historical overview
Again in an effort to get to the bottom of what WAS happening back then (October of 2008) which is when this Youtube Video was posted on the net
http://www.youtube.com/watch?v=Jz4UbrUUBZI
At the time, Marc was new to the sword world and wanted to buy a good sword for cutting with.
i bought them because of the can chop iron thing
He had originally purchased two blades, and followed that up with a second order of two more....... Resulting in a total of 4 swords costing around 600$ Total
cutting plastic bottles injured the blade, so, that false pub made me very mad
I took this statement to mean that because these blades "Can cut Iron" they should have been able to cut plastic Bottles, but they couldn't and Marc felt that was False Advertisement.
once i've learned that, i then, couple of months after, became a sword dealer and promised myself to sell only high end swords.
It was after this founding of his company "Wiwingti sword supply" That Ryan started saying the bad press was due to Lies being told by another Dealer of swords, being of course Marc/Wiwingti Sword supply.
Apparently around a year ago Ryan Actually offered to refund Marc his money, but when Marc contacted him, he never responded back. To this date Marc has never received his refund, Or any compensation for that matter.
I had asked Marc to read Part One of my review and I think he did, because given my concerns of not wanting to sound like a Shill or Plant for Ryan swords.. he simply said "I understand" And he seems to get that I don't want to appear that I am picking sides in a Two Year old fight that is unlikely to ever see an end.
I think I got the most anyone will ever get out of him as an acknowledgement towards Ryan Swords
since that debate they've changed quality(maybe)
Which quite clearly shows he can recognize that every manufacturer out there is getting better at their sword construction just to stay alive. But he is still rightfully apprehensive about the products quality.
Of course After two years Wiwingti Sword supply is doing well with quite a loyal customer base.
Bear in mind he said he would only sell the higher quality swords...
http://www.wiwingtiswordsupply.com/
He has some very decent prices, however they are definitely far off from the 50$ Mark.
Full Disclosure
I would like to remind all you readers that at the time I wrote this section (Nov of 2010) It has been two years since the events transpired and that Video was posted. And the last posted response about how scarey and poorly built Ryan Swords or how unsafe these products are, was actually written 2 Days ago
In December of 2008 the arguments were going on at the Sword Forums,
http://www.sword-buyers-guide.com/ryan-swords.html
and these comments and arguments have continued on right up to Sept 2010, with very little being said of the fact new product lines have come and gone over the 2 years and they are arguing points on two separate products from the same company.
I am not asking you to buy Ryans product, nor am I asking you to Ignore Wiwingti. I merely ask you to take both our experiences and weight your decision accordingly. You have every right to not want to deal with them because of ethical reasons, or fear that the product may still be substandard. But Also understand that there has been a Full two years where this seller has made remarkable advancements and has started to produce a fairly reasonable product. While the Visuals of the End of a rat tail Tang are disturbing, and the sounds of those loos fittings are darn right scary. I honestly think My last review showed the absolute bottom rung of the current production. And these blades are at least now safe. (Well as "Safe" as swords are supposed to be)
No actual account had been taken of the changes in the product since the original bad reviews
Again with all due honesty My 240$ investment does give me reason to have a little bias in hopes I didn't waste my money, Thats what My friends opinions added to mine is all about. Hes more experienced in swords, and he has nothing to lose or gain by helping me review it.
And this is also why I have produced FULL disclosure on the History Of what hapned to Marc
Initial Impressions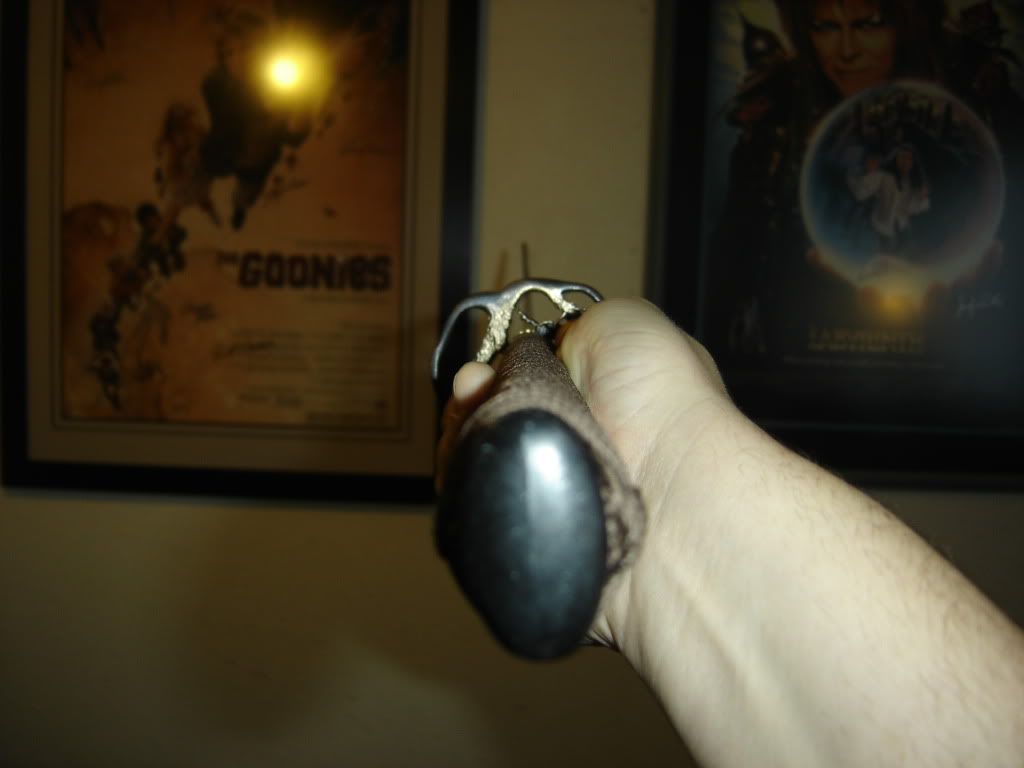 The Ryan333 was VERY
loose fitting in its saya
when I unsheathed it. And it appeared straight to the eye as well. A quick tap on the Tsuka again yielded no loose fitting sounds.
It handled nicely
given my limited experience with Katana. When I resheithed it, it slid loosely into place compared to my very Tight Oni Swords which bothered me.
After closer inspection and handling, it seemed to slide into the saya more tightly (Which makes no sense to me). With it having absolutely
no hamon line it is defiantly through hardned
.
After a good thorough going over we measured it up against the advertised numbers vrs actual numbers
Statistics
Blade/Nagasa Length: 28.7" (Actual length
28.5"
)
Handle/Tsuka Length: 10.6" (Actual Length
11"
)
Overall Length: 40.6" (Actual Length
39.75"
)
Guard/Tsuba Width: 3 1/8" W X 3" H
POB (Point of Balance): 5.5" from Tsuba
COP (Center of Percussion):
Weight: 204.5 oz (1036g)
Components
The Blade/Nagasa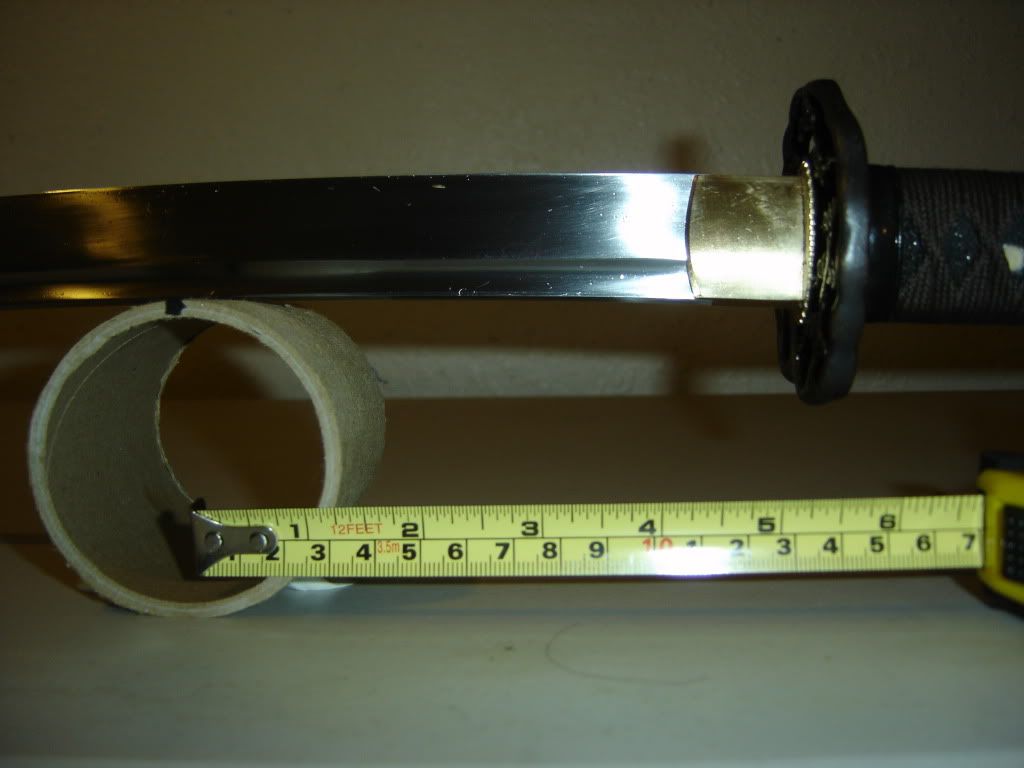 The blade is AISI 1060 Carbon Steel with a Bohi.
Point of Balance matches perfectly with the Sharpened Ryan560
I have as its counterpart.
The
Blade has a Very nice flex
to it with an immediate return to true (Original position)
The Handle/Tsuka
Is of 2 Pin Construction
Though an obvious Hardwood (though the seller doesn't state what kind)
The
"Genuine Ray Skin" Could be real, but its of a far lesser quality
than the Oni Forge Swords. The Bamboo Pins stand out in contrast with the Black Same.
And finally the
wrapping could be tighter
(As before I can Deliberately roll it with my fingers, but its not so loose to be a to be a problem.)
The Dragon Manuki fit snugly and do not shift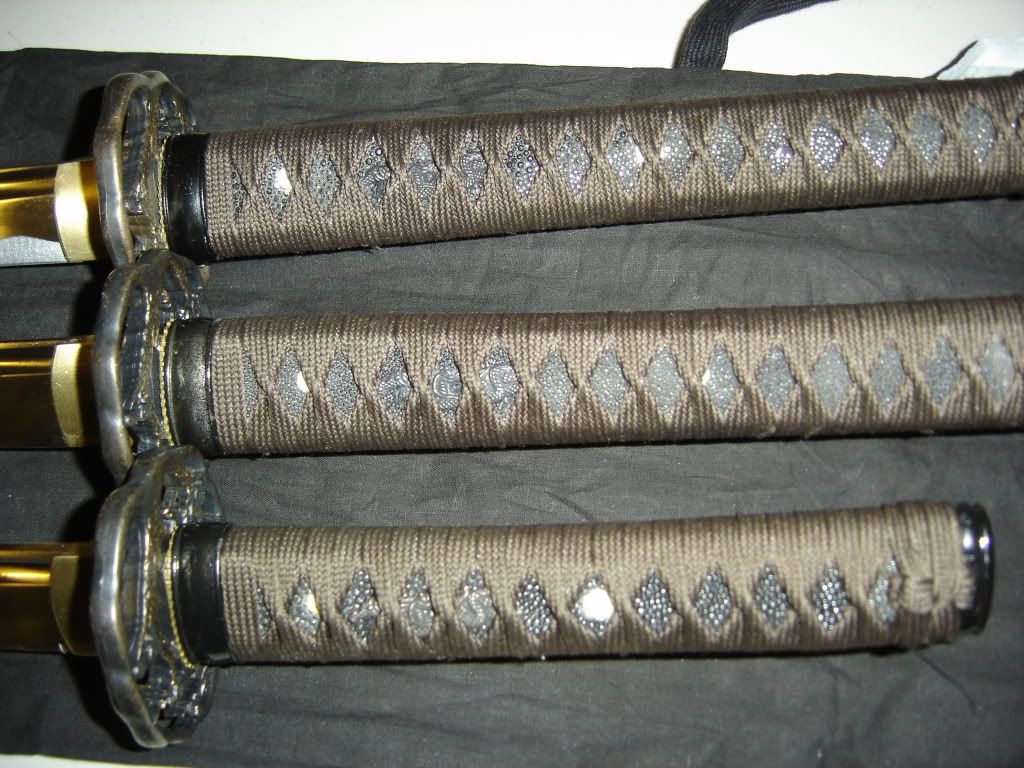 ghost wrote:Non-alternating ito wraps on all the tsukas.
The Guard/Tsuba
The Tsuba was chosen to be a nice Cherry Blossom, but the
gold paint could have been done better on it
.
In the above Picture, the Sharp Katana is in the center. You might notice it is the only one without an Obvious Cast line on its Tsuba.
The Pommel/Fuchi-Kashira
Is of a simple flat black and undecorated design. The fittings at the edge of the Tsuba also are the same unassuming design. This swords fittings are tight with absolutely NO play in them at all.
After my cut tests I noticed a similar movement in the Fuchi as before
Ftahleson wrote:However after some usage I notice by happen stance that if I deliberately applied pressure against it with my thumb the Fuchi would shift aprox a Millimeter. (Not by accident only by direct intent, and there is no loose fittings issues aside from this) After Dissembling my Katana The Loose Fuchi was due to the One sized fits most fittings they used. This I fixed by placing a VERY small dab of gorilla glue just to avoid shift in the future.
Likely its due to the same lack of securing in the One Size fits most realm of his Fittings. So the simple fix should hold. It is worth noting with all the cut testing I did on my Unsharp today as well... That fitting did not shift after I had secured it.
Its also a good point to say it was -16 today (Freezing is 0) so the cold was likely to effect the metal in my swords to a certain extent as well.
The Scabbard/Saya
Definitely a Hard wood and matches up with the sword well.
The wrapping is nice but because it was
not wrapped in plastic it has a couple burrs
on it where the wrap has been pulled a little.
As stated above there is a minor tightness issue which may actually be fixed (oddly).
And the
Side of the Saya has a scuff in it
(that doesn't show up in pictures) but it is pretty minor.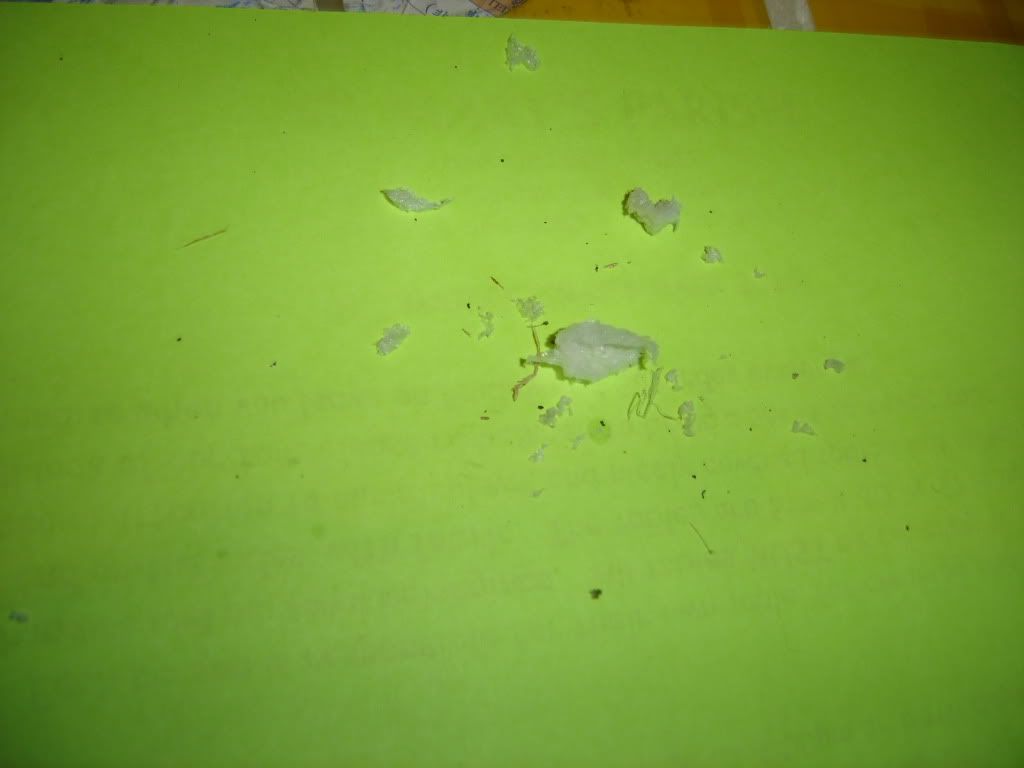 And found Random Crud inside it......
Handling Characteristics
With my limited comparison to Oni Forge and Paul Chen Katana. This one does feel most comfortable for me. And the Dragonfly Tonbo (Original version) seems to handle the closest to this blade for me. Though It more accurately handles like a mixture of my Oni Karasu and Oni Tonbo, with leanings towards the Tonbo. It is very easy to hear the Bohi affect the air on a good cut, and was
exceptionally easy to handle
. (Bear in mind I have only actually been using my Katana for the past month, prior to this is was Viking Blades and Axes) I may be 5'9" and 240lbs but I don't have a lot of upper body strength, and have been using a 30lb bow all summer so its exercising different muscles. It feel a little heavy on my forearm but comparable to my Paul Chen Practical Viking sword (LOL and thats one handed) With two hands it is very easy to handle for a long period of time. It defiantly seemed lighter than BOTH the Paul Chen Practical Blades owned by my friend.
Evan - "Its quite light, and handles very closely to the Oni Tonbo"
When
Compared to the Unsharp version of a Ryan Sword, it doesn't handle exactly the same
, but close enough.
Test Cutting
Pool Noodle: Nice Clean easy cuts every time (When Noodle cooperates and doesn't try to get away)
Plastic Bottles 2L: Simple Clean Cuts (Even for a novice Like myself)
Milk Jug: Simple Clean Cuts
Tatami Mats:
Nice Clean Cut
, simple matter of going through a 2" Grass Mat
Cardboard: Not Yet Done
Additional requested Cut Test added after original post
2x4 Stud: .5 to .75 Inch (Repeatedly) Penetration yielded no damage to blade
(However Fuchi Loosened after several hits completed)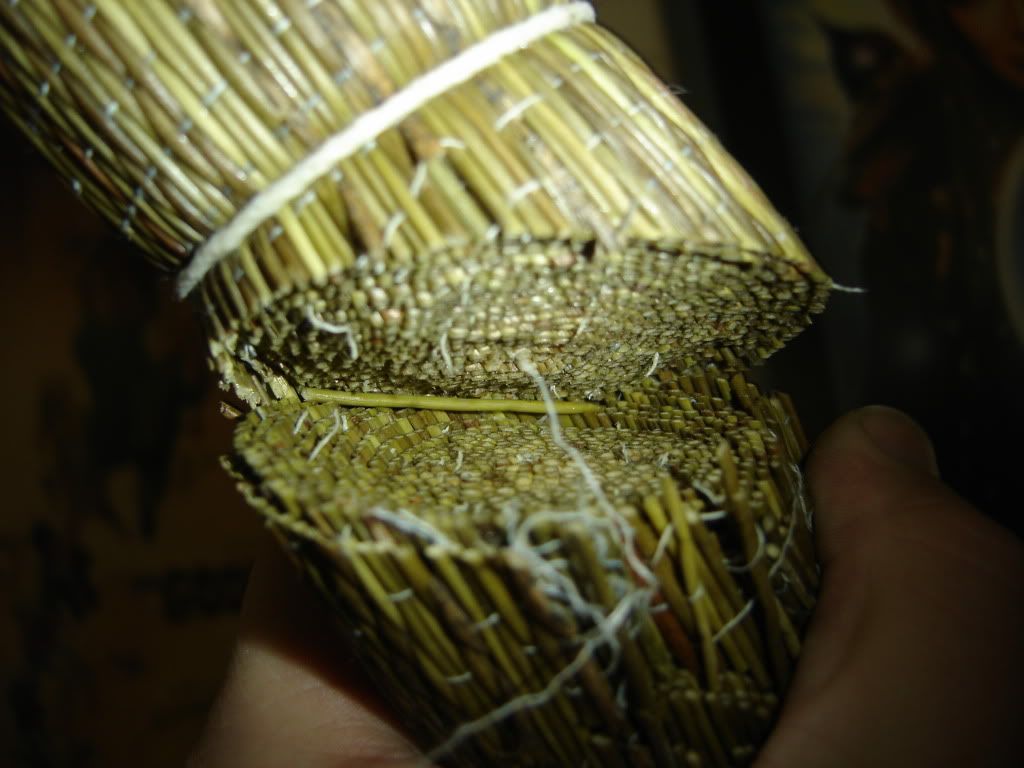 Conclusions
This
sword is worth the money you spend
on it, I likely would have paid more than 200$ for it plus shipping for a similar item. And I find it very comparable to a Paul Chen Practical Katana in quality (Except the fittings which Hanwie is superior on). As a cutter I don't have to be concerned about damaging a expensive prized posession. At 50$ + Shipping its a steal. (For the Blade alone, this is worth it)
Evan - My Paul Chen Practical Katana Gen 3, Has Hard Plastic Manuki, Plastic Fuchi, A Resin Handle (with the Same imprinted on it) Brass fittings and A nice steel Tsuba. A nicer Tsuka Ito was well. You can really see where they cut corners to make the other parts better for the price, Sacrifice everything except the Blade, Tsuba, and Wraps to keep the price down. I also noticed the same loosen off near the fuchi in my Paul Chen Katana. I have to say that after years of abuse, I feel confident in saying I abuse my sword, there are very minor issues with it. I think the Ryan Blade will stand up as well..... Ive never taken on a 2x4. But I did take on a 2" Branch with my Practical Katana.
Pros
- Easiest Customers Service I have EVER HAD Bar None
- Inexpensive at 47$ + 43$ Shipping = 90$ (To the US and Canada)
- Customizable with various fittings and options for colors
- Balance Point Matches the Un sharp Katana Identically
- 1060 Blade
- Nice Sharp Blade out of the box
- Comparable to the Other name brands of Double or even Tipple the cost.
- No FAKE Hamon
Cons
- Sellers Reputation varied dramatically depending on who you talk to.
- Fittings could have been a higher quality
- This is the second sword that the Fuchi needed to be snugged in a little.
- Measurement discrepancies between web site and Actual Sword can be off by a full inch
- Handles Similarly to the Un sharp Katana, but not identically
- Wraps "Could" Have been Tighter
- Saya Arrived scuffed up, Could have fit the sword better
- No Hamon line at all.
- "Genuine Ray Skin" is questionable
ghost wrote:Con: Non-alternating ito wraps on all the tsukas.
- Ultimately the fittings and Tsuka 'will' need to be maintained/replaced
(Possibly another seppa added to shore up that Fuchi)
The Bottom Line
You get what you pay for in this sword (And then some) While its not defect free, it is defiantly safe, and worth the money you paid. Ultimately your not getting ripped off. I am in fact buying one for my wife this Christmas, My Friend is doing the same (And getting one for himself) And I have actually recommended these swords as a low end cutter (Starter Sword) to Three of my closest friends.
I asked Evan Given all the swords we had on hand.... What would he prefer if he were new and not already content with The Paul Chen Practical Line....
Evan - If I were new, I would Prefer the Oni Forge Tonbo, Then Ryans Katana, Followed By Both The Practical Katana, and ending with the scary "Thumb Cutter" Oni Karasu.
Its a Great Starter sword, a Good Steel at 1060 and wont break the bank at under 100$. Just have to take care your not expecting too much for 50$ Like I said.. its a good start or beater sword... (Just make sure to remember due to all the low end pieces its gonna need adjustments over time.)