REVIEW OF WANG-KATANA2011 JP02 1095 STEEL CLAY-TEMPERED KATANA
By Robert in California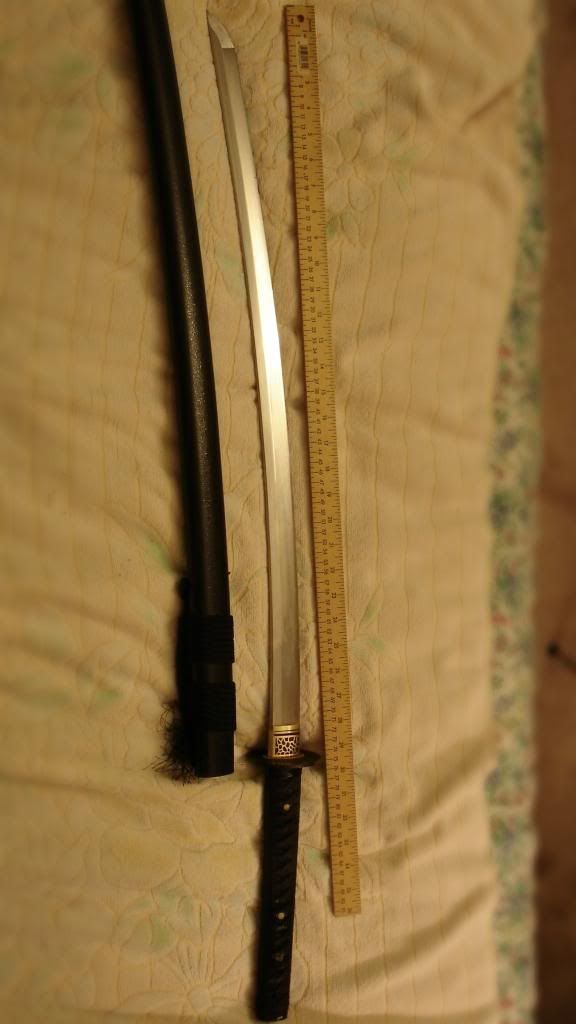 INTRODUCTION:
Recently, I went on Ebay and bought a Chinese-made katana for $151usa (regular $171) with free shipping.
Many years ago, I took kenjutsu and later kendo classes but the affairs of life required I lay my hobby aside. Now I am able to put some time at it. My interest has been Japanese swords. In my sword class, we used live blades (Japanese antique swords) and while I had to sell most of my antique and WWII era swords, I kept an older Shinshinto katana and an even older Koto wakizashi. Good swords, not in collector condition, but that is what we used. Sensei Takahashi used a really old, slender koto katana. It looked like a beater, but it was magic in his hands. Talk about a "fast draw and cut"!
Though I still have my Shinshinto antique katana, I wanted to practice with something less pricey as I start removing the many years of rust off my technique. I was looking for a good quality, budget katana and came across this katana sold on Ebay by Wang-katana2011, a sword dealer in Longquan, China.
The price was right. The photos and features looked good. And so I ordered it.
FULL DISCLOSURE:
I stumbled across this sword on Ebay and bought it. I had no experience with Chinese-made katanas and did not want to risk much money on what might or might not be a disappointment.
There were no favors asked or given.
This JP02 katana turned out to be a pleasingly good sword and here is my review:
INITIAL IMPRESSIONS:
The sword came from China about two weeks from when I ordered it on Ebay. It arrived in undamaged condition, inside a long, rectangular Styrofoam shipping box. No dings, no scratches, no cracks. Perfect condition. Everything was plastic-wrapped, even the oiled blade inside the saya. A sword bag of thin, black, cotton was included, along with a sword stand (disassembled) and a certificate of authenticity in Chinese (which I can't read for lack of Chinese language knowledge).
Wang-katana2011 JP02 arrived from China in this box:
[]
I was amazed at the manufacturing skill I saw in the sword. Simple, but tight fitting, metal furniture.
Nice, tight tsuka wrap. Blade is straight and all lines are correct (no "flat" spots). Hamon was real and nicely done. A good budget sword. Good essentials without frills such as decorative furniture or fingerstoned (hazuya/jizuya) blade polish.
Longquan China, I am told is a city of about 250,000 and a traditional sword making center. Here is what Wang-katana2011 said about this sword. I have inserted my (commentary) in the description and put a few statistics of my own following.
STATISTICS:
Wang-katana2011's Ebay description of this sword:
Please note: Below/next is a QUOTE from the Wang-katana2011 (the SELLER)'s Ebay JP02 description. My comments on the seller's description is embedded in (parentheses and end with a "rh"). More of my comments come after the seller's Ebay description quotes.
SELLER'S JP02 KATANA EBAY DESCRIPTION:
"Full hand Iron tsuba clay tempered 1095 Carbon Japanese samurai katana sword JP02
Seller : wang-katana2011 (575 ) 99.3% Positive feedback
Shipping: FREE Standard Shipping from outside US
Item location: Longquan, Zhejiang, China
This blade has been tried and tested to cut everything that gets in its way. The Sori (Blade curvature) is specially crafted to create leverage in order to perform the smoothest and cleanest cuts. This blade has a 0.95% Carbon content and 0.4% Manganese. The 1095 Carbon Steel is very solid and holds an edge well. The hamon pattern is done in the same process as the traditional Shinsakuto liveblade, clay to protect the edge and quenched in water to temper the mune or spine of the sword. The hardness of the Carbon Steel measures at an impressive HRC 62°on the Rockwell Scale. The perfect combination of the hardness of the carbon steel, and the increased Sori (curvature of the blade), enables this high quality blade to easily cut through tatami straw mats or bamboo for Tameshigiri or Batto-do.
Blade Length with Habaki
72cm / 28.3" (I measured 28 ¾" rh)
Blade Length without Habaki
70cm / 27.5" (I measured 27 ¾" rh)
Handle Length
26.5cm / 10.4" (10 ½" by my yardstick rh)
Overall Length
103cm / 40.5" (I got 39 ¾" rh)
Sword Weight with Saya
1,450g / 3.1 lb (my bathroom scale says weights are right, but the sword feels lighter for some reason. rh)
Sword Weight without saya
1,225g / 2.7 lb
Steel
1095 Carbon steel (I have to assume correct. rh)
Blade
Clay tempered (yes, nice midare/wild wavy type true hamon. rh)
Hi(Blood groove)
No groove (they sell them with and without. I confess to preferring no bo-hi/groove. rh)
Tsuba
Alloy (custom options let me choose a classic, round, blackened iron tsuba instead, at no extra charge. rh)
My choice of Tsuba (you get to choose):
[]
Hamon(Tempered line)
Distinct real Hamon created by fully hand polishing
(yes, true….an almost mirror-shiny polish on all blade surfaces. rh)
Tsuka(Handle)
Real Rayskin wrapped with Japanese silk Ito&ornamented with menuki
(all true but the sawegawa/rayskin is panels, not full wrap. Full wrap is $20usa extra option. rh)
Saya
Piano lacquered wood tied with Japanese imported silk Sageo
(Yes, a tasteful and nicely-done flat black with a splatter finish painted wood saya with a non-metallic koguichi band under the paint. Might also have a non-metallic kojiri cap hidden under the paint. rh)
Tang
Full tang, signed with unique number
(Full tang for sure, but I have not removed the tsuka. rh)
Condition
Brand new & can be fully disassembled and:
Package Includes:
1 * Assembled Katana Sword with saya
2 * Black Cotton Katana Bag
3 * Black Stand
4 * Certificate for the katana"
(Yes, all there and the menuki are dragons of darkened metal. RH)
Ok, the above was the SELLER'S DESCRIPTION (plus my embedded comments rh).
JP02 katana in shipping box:
[][/img]
MY STATISTICS (not the seller's):
BLADE:
The 27 ¾" clay-tempered blade has, by my measure via trusty ruler and yard stick, the following:
Sori/blade curvature: ¾" IMO, this is a medium sori blade.
Blade thickness (yokote/ middle of blade/ blade at habaki): 3/16" / 4/16" / 5/16"
Total blade width (ha/edge to mune/top of blade) (yokote/ middle of blade/ blade at habaki):
15/16" / 18/16" / 20/16"
JP02 blade near kissaki:
[]
Flat/non-cutting surface of blade width (shinogi to mune) (yokote/ middle of blade/ blade at habaki):
5/16" / 6/16" / 7/16"
Angled cutting surface of blade width (ha to shinogi) (yokote/ blade middle/ next to habaki):
10/16" / 12/16" / 13/16"
JP02 blade near habaki:
[]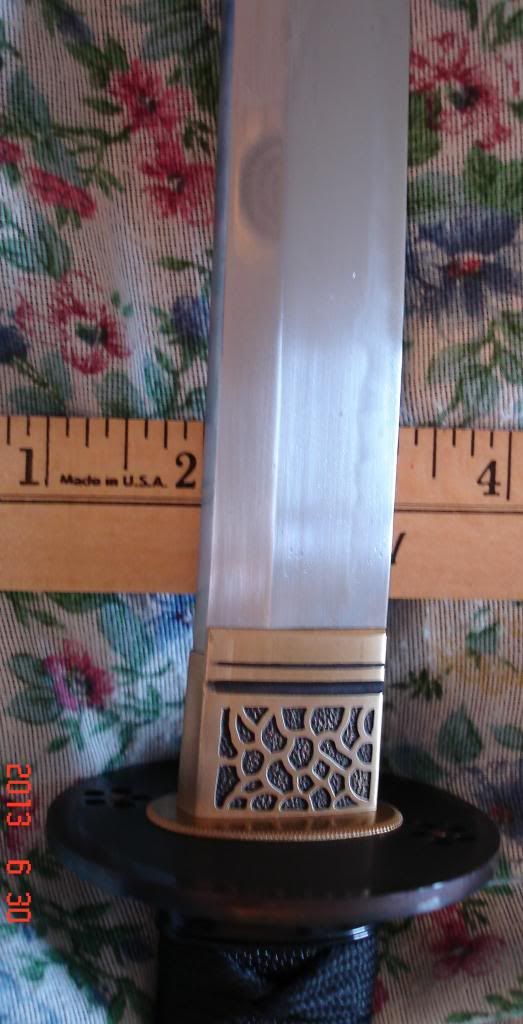 Is this blade a "cutter of soft stuff" or a "cutter of hard stuff"?
A soft stuff cutter (no armor cutting) will have more cutting part of the blade (ha/edge to shinogi) and less of the non-cutting part (shinogi to mune—the flat surface of the blade where a bohi is put). So the blade of a soft-cutter comes to a finer, knife edge and the blade of a hard-cutter comes to a more acute, axe type edge which does not slice as well but handles hard stuff better and stays sharp longer.
I'll call it the soft/hard cut number:
Sword soft/hard cut number (divide width of angled part of blade by total blade width).
The bigger the soft/hard cut number, the more of a "soft stuff cutter" the blade is:
JP02 Soft/Hard Cut Number:
Start of kissaki: 10/15 = .67
Middle of blade: 12 / 18 = .67
Blade next to habaki: 13/20 = .65
So, is this Wang-katana2011 model JP02 katana a soft or a hard cutter?
The measure is relative to other swords.
As more swords are measured thus, we will get a better idea.
IMO, looking at the blade, it looks to be about halfway.
Point of Balance: 4 2/3" past habaki (balanced carefully on my finger).
Center of Percussion: Say what? No idea what this measure is, but it reminds me of a little Buddhist Koan humor:
Buddhist meditation topic for advanced students:
"What is the sound of one hand clapping?"
Buddhist meditation topic for beginner (and the less mentally gifted) students:
"What is the sound of two hands clapping?"
More PICTURES OF Wang-katana2011 JP02 Katana:
Below are more pictures from our Sony digital camera. Not the best choice for the job perhaps as it doesn't like to take pictures closer than about 3 ½" away, but it's what we have. I must admit photographing the JP02 katana blade was frustrating due to its uniform mirror-shiny polish that made pictures of the hamon so difficult that finally, I took a Sharpie black ink marker pen and outlined the hamon on one side of the blade and took a picture.
JP02 katana hamon near habaki:
[][/img]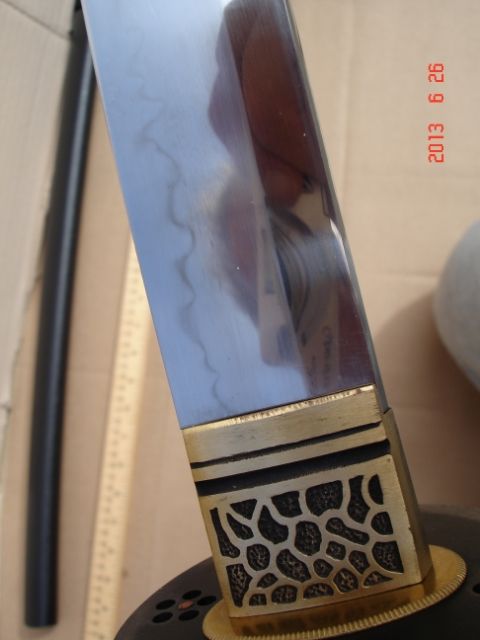 JP02 katana mid-blade:
[][/img]
JP02 katana kissaki:
[][/img]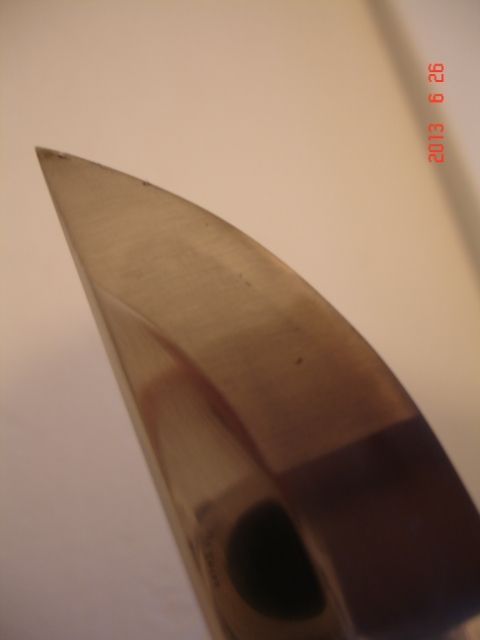 JP02 katana koguichi:
[]
JP02 katana kojiri:
[]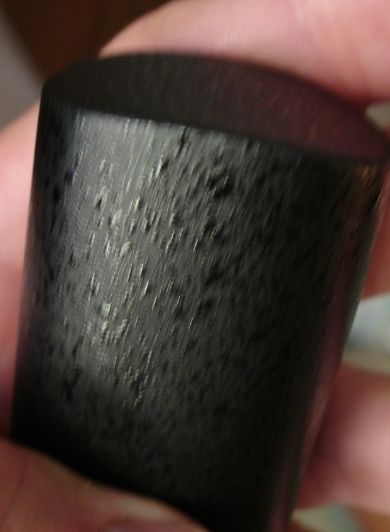 Another JP02 katana kojiri pic:
[]
Finally, I gave up on being able to show the hamon of a mirror-shiny polished sword and outlined the JP02 katana hamon with an ink marker:
JP02 katana hamon outlined with a black ink marker:
[][/img]
Below, are a few pictures of my Mumei Shinshinto katana just to show that with a final hazuya/jizuya (finger stones) polish, the hamon is easier to photograph.
I thought about buying hazuya and jizuya finger stones and spending a couple weeks finger stone polishing the JP02 katana to make hamon pics easier, but ended up using the ink marker to show the JP02 hamon because right now, a lot of free time is hard for me to find.
My Shinshinto katana:

[][/img]
My Shinshinto yokote:
[
]
My Shinshinto finger-stone polished hamon:
[][/img]
===================
JP02 SWORD FEEL:
How does this katana feel in my hands (I being 6' 2" and an older guy)?
It feels light and quick.
Very pleasant.
Makes my Shinshinto katana feel like an wood axe by comparison.
Much lighter weight feeling.
It feels longer than the actual measurements.
Lacking bohi, I have to do a precisely correct cut to hear the blade.
Which to me is rewarding.
A pleasure to hold and wield.
Yikes! Did I just do an accidental Haiku poem?
Words on the tomb stone of a slow samurai:
JP02
The sword for you.
It cuts real great.
In my hands too late.
(Haiku or Burma Shave?...or is nobody here old enough to remember the old Burma Shave signs found on old, secondary highways?)
CUTTING RESULTS?
No data. The seller's description (above) says the JP02 katana will cut fine, but I did not test that claim.
I did not cut tatami or water-filled plastic jugs, etc with this sword. I do not regard my beginner-level cutting skill to be a valid measure of the JP02 katana's ability. The road-handling of a sports car is not best tested with someone with only a Learner's Permit.
The only cutting I have done in the past was cutting the weak, thin local bamboo and while a few of my cuts yielded a clean cut and the bamboo falling straight down, most of my cuts left the bamboo half still in the cutting stand, splintered and the cut piece went sailing across the room.
The Wang-katana2011 JP02 katana sharp? Razor sharp?
Ok, I just tried to shave hair off my arm (wet hair & shaved with middle area of blade....I cut a few hairs, but most did not shave/cut off. Then I took one piece of typing paper/copy paper that is for printers/copy machines. The JP02 sliced it as long as I started the cut near where my fingers were holding it. That is, where the paper was held firmly in the fingers, not where the paper was just waving around.
I felt the edge (using the thumb nail test I use for my knives, being a knife enthusiast. The JP02 edge did not slide across my thumb nail. It was sharp enough to "dig in" with almost no pressure. Which is my test for a sharp knife. So, I'd say my JP02 is very sharp...but not razor sharp.
It seems, IMO, to be about as sharp as the semi-axe type edge can easily get.
Which is about as sharp as I can expect. When I look at the edge of a knife in good light, if I can see the edge anywhere, then that is a dull spot.
With the JP02 in light, looking down at the edge, I can not see it...so it is a sharp edge. But not razor sharp. More like a REALLY sharp thin-bladed axe.
Here is a pic of my slicing of a sheet of typing/copy/printer paper that I took from the tray of my HP inkjet printer:
[]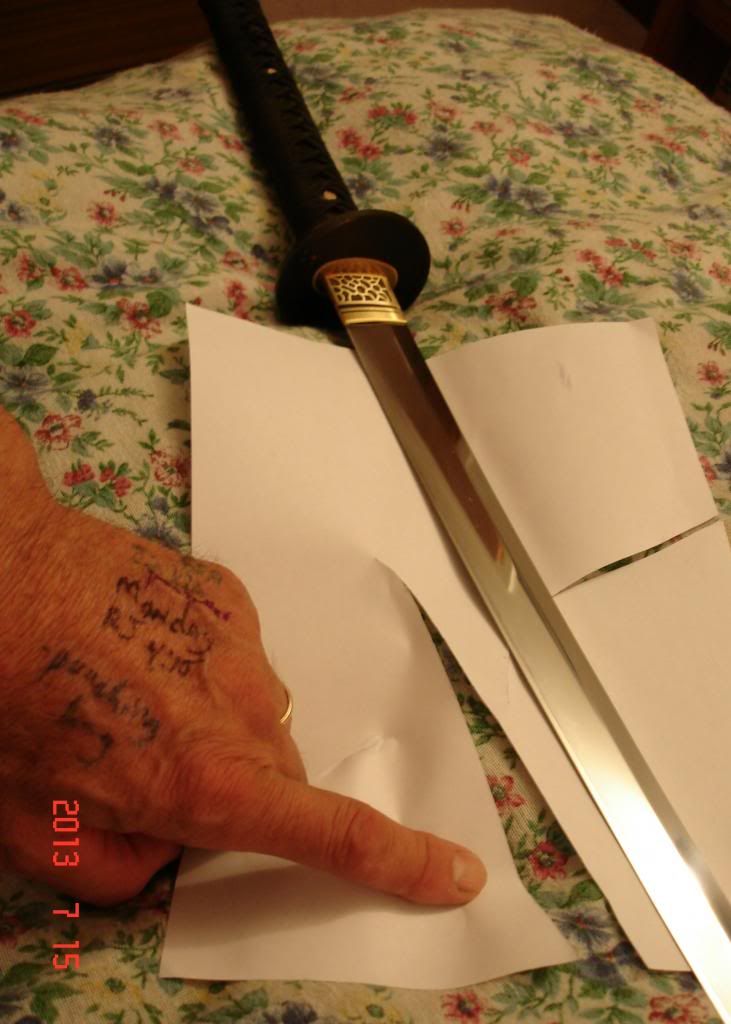 LESSONS LEARNED:
I learned that the sword photos you see on Ebay is not always the sword you get. The Ebay pictures of the JP02 katana were accurate in what the furniture was, but not in the hamon. JP02 is a model/series name, like "Smith" or "Jones". And clay-tempering creates unique temper/hamon lines. My JP02 katana has a nice hamon, but it is not the hamon in the Ebay picture. The lesson to learn is to ask the seller if the Ebay pictures are the actual sword being bought. And if not, to ask for pictures of the actual sword bid on/purchased. Wang-katana2011 (and also Katana1980) were very good about taking actual item pictures and sending them via Ebay message emails.
SUMMARY:
I like this sword. Maybe it is your basic 1095 high carbon steel made via power hammer forging and with an easier and quicker-to-do shiny mirror polish on all blade surfaces, but the blade geometry is very good. No observed flat spots where there should be flowing curves. No bends or ripples in the blade (something one ALWAYS need check on an antique sword). Simple but well-fitting furniture. A good basic, good steel, clay-tempered, budget featured and priced Chinese-made katana of good quality.
This is a mono steel blade not folded steel. But with today's better, more pure, alloyed steels, a mono steel blade is fine. And less hand-work to make. So generally less expensive. Other available blade options are alloy steels such as the popular T10 tool steel. Folded steels. Sanmei steel blades. I am ordering a T10 mono katana and a 1060/1095/1060 folded/sanmei steel katana and hope to post reviews of them here as well.
Another thing to remember is that as far as blade quality is concerned, a $500 and a $200 Chinese-made katana can have the same blade steel quality. The cost difference is in the level of the blade polish and in the quality of material, fit and finish of the furniture.
PRO: Light and quick handling. Very sharp. Blade is straight. Fittings are well done. Simple but precision-made and tight-fitting. The tsuka/handle wrap of black tsukaito/braid is even and tight. Habaki is centered and precise fit. Sword fits tightly in saya. No rattle.
Skilled people put this sword together.
Additionally, I like the slightly curved tsuka. And the JP02's wider than average blade.
CON: Tsuka with ray skin panels instead of the stronger, more desirable full-wrap samegawa.
However, happily a full wrap is now available for an extra $20usa option.
Here is a pic of a Wang-katana2011 full wrap ray skin/samegawa tsuka for JP02 katana prior to adding fuchi/kashira and the criss-cross braid/tsukito wrap: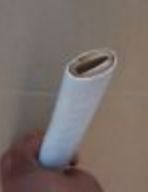 []
Here is a pic of the Wang-katana2011 full wrap ray skin/samegawa tsuka for JP02 katana fuchi end:
[]
Here are more pics of the finished Wang-katana2011 full wrap ray skin/samegawa tsuka for JP02 katana. I asked for white/natural samegawa. The JP02 came with black-colored samegawa.
The full samegawa wrap JP02 tsuka came plastic wrapped:
[]
The full samegawa wrap JP02 tsuka with plastic wrap removed:
[

]
The full samegawa wrap JP02 tsuka close up:
[]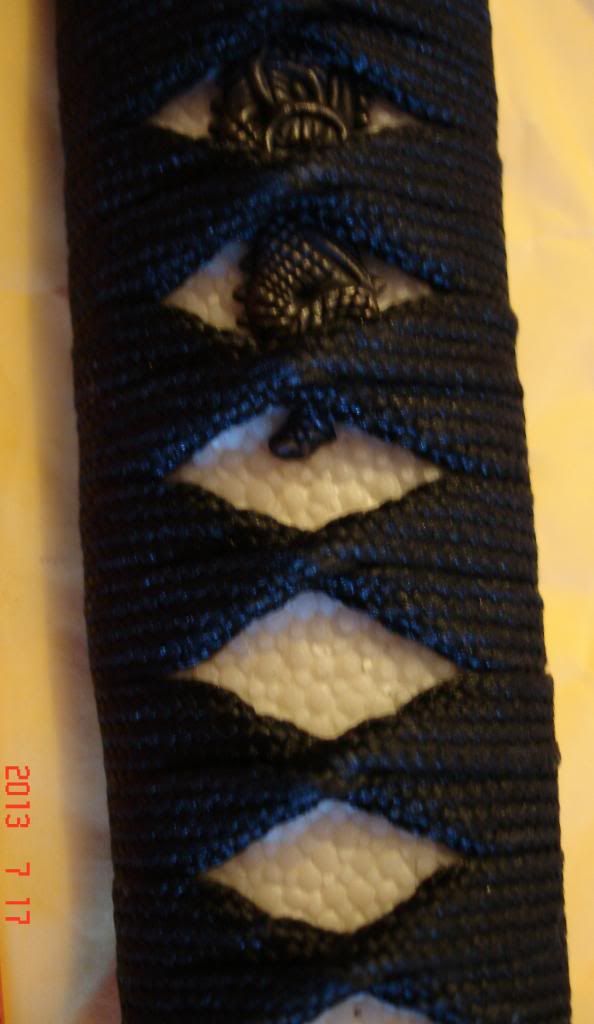 And a couple more:
[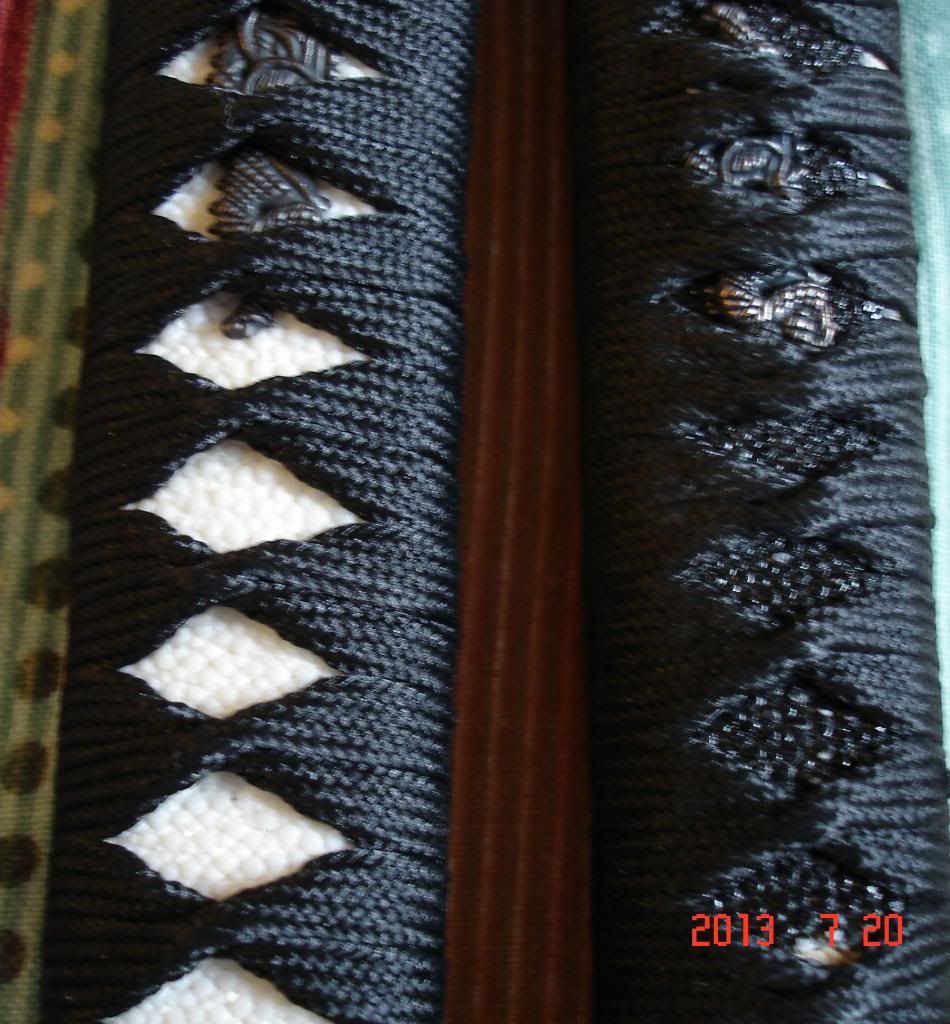 ]
The full samegawa wrap JP02 tsuka (white ray skin) next to the (default) samegawa panels JP02 tsuka. The full wrap tsuka is slightly larger:
[
]
So, what is next?
Next I have to figure out how to install the new JP02 tsuka correctly the first time. I welcome suggestions. In hindsight, I should have paid the $20usa to have the job done at time of purchase (My hindsight is 20/20. My foresight is a white cane with red tip.)
Robert in California
7July2013
p.s. 1November2013: Wang-katana1980 told me that they could make a JP02 katana with a more wide hamon as an option for $50usa. The standard hamon is fine, but this option interests me as I am fond of wide hamons. RinC